'La La Land' Soundtrack: Everything to know about lyricist team Benj Pasek and Justin Paul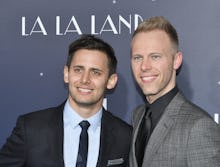 Benj Pasek and Justin Paul, professionally known as Pasek and Paul, are having a very good year. They're the wordsmiths behind the lyrics in Damien Chazelle's new movie La La Land, out in theaters Friday — and their star, already on the rise, is about to blow up.
Yes, their 2016 has been, in a word, massive. They're the subject of New York Times profiles and walking red carpets for not one, but two major musical projects. In addition to La La Land, the pair's new show Dear Evan Hansen bowed on Broadway to rave reviews.
Here's what to know about the pair, as well as a short survey of their work before and after breaking out big.
Previous work
Pasek and Paul met when they attended the University of Michigan, working together almost immediately and winning coveted Jonathan Larson Awards just a year after graduating. In school, they worked on a musical titled Edges; they continued to work on conceptual work before making their Broadway debut with A Christmas Story: The Musical in 2012. (They were Tony-nominated for that score.)
In addition to traditional theatrical work, Pasek and Paul also composed several songs for shows and movies, including a tune for 2016's Trolls. They also contributed several songs to the short-lived NBC musical drama Smash's second season, including the Katharine McPhee and Jeremy Jordan duet "Rewrite This Story." As is common in their work, the song is more thematic than specific to story beats:
Make me someone new
Dear Evan Hansen
In 2015, Pasek and Paul debuted a new piece of musical theater in Washington, D.C. Titled Dear Evan Hansen, the show focused on questions of identity and self-acceptance, with a score that worked in concert with those themes. The show transferred off-Broadway in 2016, winning a slew of awards in the process, and completed one final move to Broadway in late 2016.
The song embedded above, "Waving Through a Window," serves as the de facto theme song of Dear Evan Hansen. Sung by Evan, it's star Ben Platt's first solo, and it hits on the central ideas of confusion about identity. Evan sings:
Will I ever be more than I've always been?
La La Land
If any composing team just had a hit new musical on Broadway, that would be a major win. But Pasek and Paul are winning major attention for their lyrics for La La Land's song score, as well — and will almost certainly be best original song Oscar nominees come January 2017.
Most of the La La Land songs are sung with a dreamy lilt to match the film's overall flight-of-fancy vibe. But the climactic song, "Audition (The Fools Who Dream)," deviates from the norm. It features star Emma Stone's only chance to belt, and the lyrics are just as captivating:
Here's to the fools who dream