John Glenn Death: Former US senator and astronaut dies at 95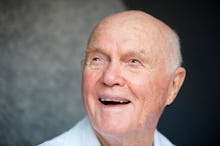 John Glenn, an aviation icon and former U.S. senator, died Thursday afternoon at the age of 95 at the Ohio State University Wexner Medical Center in Columbus, Ohio. There's no word yet on the cause of his death.
In 1962, Glenn became the first American to orbit the Earth and became the oldest man to travel to space when he boarded the Discovery mission at age 77 in 1998, according to the Columbus Dispatch. 
In 2012, President Barack Obama awarded Glenn the Presidential Medal of Freedom. "On the morning that John Glenn blasted off into space, America stood still," Obama said at the time. He commended Glenn on continuing his public service as a senator.
During his 25 years as an Ohio senator, Glenn chaired the Committee on Governmental Affairs, working to "make the government more efficient," according to his Senate bio. He also had a passion for foreign policy, and traveled to China alongside then-Senate Majority Leader Mike Mansfield in 1976. Former Secretary of the Senate Francis R. Valeo recalled the trip in an oral history interview, speaking to Glenn's character and quirks.
"He brings a note of individuality into [the role], not because he's an astronaut, I don't think that's a good endorsement," Valeo said. "We'd have astronauts coming out of our ears in the Senate if you thought that was enough to make a man a senator. But Glenn has developed greatly as a senator in my judgment."
Glenn's legacy as a congressman, however, will always remain complicated due to his involvement in the Keating Five, a group of five senators who "were thought to have improperly intervened with regulators to protect a campaign contributor," according to Time. That campaign contributor was Charles Keating, a close friend of John McCain's who had donated some $1.4 million in total to the five senators' campaigns. Glenn wasn't brought up on any charges, but the scandal left a dark mark for those involved, with McCain calling it the "worst mistake" of his life.
Glenn later ran a failed presidential campaign in 1984, seeking the Democratic nomination. Valeo said Glenn just never seemed cut out for the presidency.
"I was sorry to see him make the run for the presidency," Valeo said in his oral history interview. "I knew he was not going to make it."
However, Valeo suggested it was because Glenn's passion for aviation always trumped his political aspirations. And it's for these contributions that people will remember him most.
"John Glenn is, and always will be, Ohio's ultimate hometown hero, and his passing today is an occasion for all of us to grieve," said Ohio Gov. John Kasich, according to the Columbus Dispatch. "As we bow our heads and share our grief with his beloved wife, Annie, we must also turn to the skies, to salute his remarkable journeys and his long years of service to our state and nation."