Best productivity apps, books and tools to jumpstart your 2017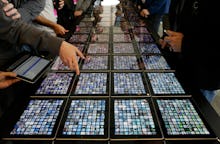 With a new year comes a new set of resolutions. Boosting productivity, whether it's at the gym, office, library or so on, is typically near the top of the list. Here are some essential apps, books and tools you can use to jumpstart 2017. 
Productivity Apps 
Wunderlist: One of the finest to-do list apps around, Wunderlist helps users stay on track with effective reminder notifications and a simple-to-use interface. 
Productive: What's in a name? The life you're about to live, in this case. Productive does exactly as advertised using smart reminders and motivational stats to build and stick to routines. 
Genius Notepad: Upgrade your default Notes app with the Genius Notepad, which comes with 30 designs and fonts and a variety of useful sub-folders for peak organization. 
Fantastical 2: This calendar app will keep you on track with a slew of built-in features like colorful block schedules, reminder notifications and an attractive interface that's pleasant to look at and operate.
Productivity Books
Getting Things Done: How to Achieve Stress-free Productivity (David Allen): This well-regarded productivity guide not only offers practical instruction but also lays the groundwork for how to adapt a go-getter state of mind. 
The Seven Habits of Highly Effective People (Stephen Covey): For a more philosophical approach to productivity, dive into this classic self-help book that's sold millions of copies worldwide. Covey takes Allen's methodology a step further, offering a guide to better life and work habits.