11 last-minute DIY gift ideas that are cooler than anything in stores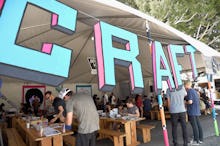 Sometimes the best stuff comes out of procrastination, right? At least that's what we procrastinators like to tell ourselves. Just check out these last-minute gift ideas for presents that you can make yourself, with very little effort, time or materials. 
Why go DIY? First of all, they're not expensive (OK, that's not the point) — but more importantly, with a little elbow grease, you can make some really thoughtful and great-looking gifts!
These DIY gifts (some of them printable right from your computer) are so good you'll want to keep them for yourself.
A DIY and trendy AF duct tape bag
This subway-inspired tote bag is made out of duct tape, courtesy of designer Richela Fabian Morgan, who shows you how to make a lot of design-forward, duct tape bags in her new book Duct Tape Bags: 40 Projects for Totes, Clutches, Messenger Bags, and Bowlers (available for $11.25).
A top-shelf DIY gift idea
Give somebody's home bar a lift with these homemade striped cork coasters from Delineate Your Dwelling. Find the instructions here.
A DIY geometric camera strap
The editors at PopSugar show how to make a truly unique camera strap for the photographer who wants to stand out from the pack. A cotton strap and a few strokes of a paintbrush are all it takes. Find the instructions here.
DIY sweet medicine
These throat lozenges from Free People's DIY blog taste so good, no one will know they're actually good for you. All it takes is a cup of Earl Grey tea, manuka honey, lemon and some cloves (and a little decorative satchel). Find the instructions here.
DIY little desk buddies
These adorable paper animals come courtesy of Canon's Creative Park database of printable 3-D art. (Canon presumably wants you to print them on your home computer, thus using more of their ink, but we're not complaining because look at that baby monkey!) All it takes is a printer, a glue stick or two, an X-acto knife and steady hands. Find the instructions here.
DIY cheese
How dope would it be to have lasagna featuring homemade mozzarella and ricotta cheeses? This delightfully cheesy gift can be made with a DIY cheese kit from Etsy vendor Urban Cheesecraft ($25), a shop that also offers kits to make burrata and queso blanco. Yum.
Printable gifts
A fun thing to do is search Etsy with "digital download" — you'll find all manner of fun, immediately printable gifts to customize. This printable cassette tape kit from Etsy vendor Claudine Hellmuth ($4.99) is funky wrapping for anything from a gift card to candy. 
The cutting edge DIY gift idea
Another simple, instantly downloadable idea is to print one of these pop-up cards from Etsy vendor Paper Garden ($3.50) and throw in a gift card or two.
DIY immediate art
Printable posters are big on Etsy, too — they're affordable, convenient, and look great. This digital download of a cactus from Etsy vendor Lila x Lola ($6.76) turns into veritable wall art once inside the right frame.
DIY wads of cash (cash not included)
Something for everybody — especially the person who loves going to the laundromat. This idea, from Martha Stewart, takes rolls of coins and turns them into festive, holiday-appropriate stocking stuffers. Find the instructions here.
A DIY space saver
This arrow bookmark, from Onelmon, uses popsicle sticks and an elastic band to keep its reader not only on the right page, but the exact word where they left off.
Find the instructions here.
This month, Mic Essentials brings you handpicked deals, reviews, recommendations and gift ideas. For more ideas, see our lists for Dad, your girlfriend, your boyfriend and for that secret Santa gift exchange you're attending. If you buy something through a link on this page, Mic may earn a small commission.