'Star Wars' Christmas gift guide: 8 presents to unlock your inner Jedi (or Sith)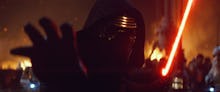 The most wonderful time of year is fast approaching, and with Christmas right around the corner, it's time to start getting serious about picking out some presents for that special Star Wars fan in your life. From the original films to the recently released Stars Wars: The Force Awakens, the upcoming Rogue One: A Star Wars Story or the far, far away Han Solo spinoff, there's plenty of out-of-this-world gifts to choose from. Here's our favorite Star Wars presents to help awaken the Jedi or Sith in you and your loved ones this holiday season. 
(Editor's note: Prices and product availability are subject to change throughout the holidays.)
This blade is cool enough to instantly turn any Padawan into a full-fledged master. "The Guardian" combat lightsaber from Ultra Sabers will set you back a few Republic credits, but it'll also allow you to engage in epic lightsaber duels. You have your choice of blade colors, including Blazing Red, Consular Green, Guardian Blue, Hot Pink and many more. The hilt is beautifully crafted and the overall construction looks top notch — this saber will definitely awaken the Force within. 
Few things can make you feel like you're living inside the Star Wars universe like playing a Star Wars video game, and the Star Wars: Battlefront Rogue One: Scarif DLC is no exception. This downloadable content brings a slew of new characters, weapons, vehicles and planets, including Jyn Ergo's A180 blaster, the U-wing featured in the Rogue One movie and so much more. 
BB-8 is, without question, one of the spunkiest, most loyal and cutest droids in the Star Wars universe. The BB unit played a pivotal role in Star Wars: The Force Awakens, taking the highly coveted map of Luke Skywalker's whereabouts to Rey, who in turn helped get it to the Resistance. The faux wear and tear on The Special Edition Battle-Worn BB-8 with Force Band makes the droid look like he's travelled the galaxy, and with this remote control BB unit, you can have new adventures of your own.
Sure, Stormtroopers can't hit the broadside of a barn, but if you're looking for a guardian for your home, this life-size First Order Stormtrooper can serve as a fearsome deterrent. And as you well know, the First Order vigorously trains their enforcers to be loyal to the end — except maybe in the case of Finn. 
At $7,999.99, this Star Wars Christmas gift is practically the same price as a downpayment on a TIE Fighter, but if you've got the credits, it might just be worth it.
Keeping your drinks cold is direly important, whether they be in a galaxy far, far away, or your just in your living room here on Earth, and this life-size, remote-controlled R2-D2 unit is here to answer that call. The refrigerator is housed inside the droid and can keep your liquid libations at just the right temperature. It also has R2's signature beeps and boops pre-programmed in, and even has a built-in projector function, just in case Princess Leia needs to relay a hidden message.
This R2 unit is another pricey Christmas gift to be sure, but each unit comes with it's own serial number, making it a collectable for any serious Star Wars fan.
If Han Solo and Chewie are your or your loved one's favorite characters from Star Wars, Air Hogs' Star Wars XL Millennium Falcon Drone is exactly the right gift for this holiday season. This flying behemoth is 27 inches long and comes complete with authentic lights and sounds, a controller and even an LED subspace hyper drive for those late-night flights. 
You could dress up as Santa this Christmas, or you if you're feeling the pull from the Dark Side you could go with this Kylo Ren replica costume from Jedi Robe America instead. The Star Wars: The Force Awakens ensemble includes an inner jacket, outer robe, shawl, trousers and belt, and the Kylo Ren face mask, gloves and boots can be purchased separately on the website. 
This particular bowcaster is modeled after the one used by Chewbacca (and briefly Han Solo, much to his delight) in Star Wars: The Force Awakens. The faux weapon is made of a composition of 3D printing materials and forged and cast items, and is then painstakingly hand-finished to accurately depict the original version. If you need a weapon to rebel against the First Order, this is probably your best bet.
What Star Wars gifts are on your Christmas wish list?
Mic has ongoing Star Wars coverage. Please follow our main Star Wars hub.