Holiday mule drink recipes for that perfectly festive at-home nightcap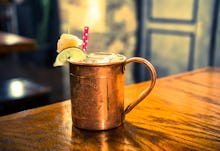 There's just something about cold weather that makes you want to drink a chilly beverage out of a copper mug — or sip any boozy refreshment in general, really. What could be more appropriate for the holiday season than the ginger-flavored, candy-topped mule? And no, you don't need to change out of your sweatpants and go to a bar to get one. 
"The mule is a modern classic that people don't realize is a classic," Pete Vasconcellos, bar director of The Penrose in New York, said in an email. "Moscow Mules are back now, but people don't realize that they've been around since the 40s." 
Unlike plenty of today's trendy drinks, there's no intricate mixology required to make one of these seasonal sippers. "It's a super easy go-to drink, sweet and spicy, and it's really versatile," Vasconcellos said. "You can swap in any spirit and it's delicious; our house spirit for this cocktail is Tito's vodka, but it's equally good with rye, tequila rum or gin." 
Here's how to make your very own holiday mule drink:
The Penrose Mule
Ingredients:
2 ounces Tito's Handmade Vodka [or any other liquor: rye, tequila, gin, rum]
3/4 ounce fresh lime juice
3/4 ounce fresh ginger syrup (*recipe below)
Club soda
Crystallized ginger candy, for garnish
*Ginger syrup
1/2 cup fresh ginger juice (squeezed from freshly grated ginger root)
1/2 cup granulated sugar
Stir ginger juice and sugar together to combine
Method:
Add the vodka, lime juice and ginger syrup to a shaker and fill with ice. Shake and strain into a Collins glass filled with fresh ice. Top with club soda and garnish with crystallized ginger candy.
The Ivan Drago 
Created by Sweetwater Social's Tim Cooper
Ingredients: 
2 ounces Aylesbury Duck Vodka
1 ounce Russian spiced ginger syrup
3/4 ounce lime juice
2 dashes Angostura Bitters
Club soda
Method: 
Shake and serve on the rocks in a mule mug. Garnish with ginger candy or a lime wheel. 
First of the Month
Created by The Eddy's Luis Hernandez
Ingredients:
1.5 ounces Monkey Shoulder
1 ounce cold brew
1/2 ounce Ancho Reyes 
1/2 ounce heavy cream 
1/4 ounce Demerara syrup
2 dashes Tonka dried beans tincture
Method: 
Shake hard and double strain into fresh ice. Shave nutmeg on top. 
Blueberry Mule
Created by Massoni's Bill Reilly
Ingredients:
2 ounces Absolut Elyx Vodka
2 ounces POM Pomegranate Blueberry Juice
Dash of fresh lime juice
Q Ginger Beer
Blueberries
Method:
Start by chilling a copper mug in the freezer for a few minutes to get it nice and cold. In an ice-filled shaker, add all ingredients. Give it a good shake. Take the chilled copper mug and fill it halfway with crushed ice. Strain the contents of the shaker into the copper mug and top with ginger beer. Garnish with a few blueberries and a slice of lime and serve. 
Six-Point Buck 
Created by Root & Bone's David Olson
Ingredients:
1.5 ounces bourbon
3/4 ounce lime juice
3/4 ounce black pepper simple syrup (*recipe below)
2 ounces ginger beer
*Black Pepper Syrup
8 ounces sugar
8 ounces water
2 tablespoons black peppercorns (lightly crushed)
1/2 teaspoon vanilla extract
Add sugar to water and gently boil for five minutes. Add peppercorns and remove from heat. Allow to steep for one hour. Strain peppercorns and add vanilla. 
Method:
Shake bourbon, lime juice and black pepper simple syrup with ice. Strain over fresh ice and top with ginger beer. Garnish with lime and fresh cracked pepper.