How to cook a Christmas ham: 10 tasty recipes for the 2016 holiday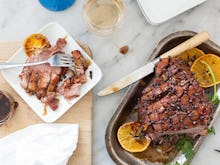 Just after Santa Claus and his fleet of reindeer, the Christmas ham reigns supreme as the holiday's iconic symbol. 
So how exactly do you cook a delicious Christmas ham? From slow roasting to slow cooking to adorning a pre-cooked ham with pineapple and cherries and letting all that sweetness soak in, there are countless ways to prep that holiday pork. Here's how to cook a Christmas ham — it's pretty difficult to mess up!
Slow cooker maple brown sugar ham 
It takes all of five minutes to prep this ham that you can set and forget in your slow cooker while cooking the rest of Christmas dinner. Get the recipe here.
Smoked Ham with pomegranate molasses, black pepper and mustard glaze
A little extra work goes into making this homemade glaze, but it's all worth it once you bite into your first slice of holiday ham. Get the recipe here.
Sticky glazed Asian ham
Add some stickiness and spiciness to your holiday routine with this unique ham glaze. Get the recipe here.
Chipotle pineapple jerk glazed ham
If you're craving warmer weather, opt for this spicy tropical-themed ham to heat up your Christmas feast. Get the recipe here.
Glazed holiday ham
Basting this Dutch oven roasted ham makes it especially juicy and flavorful. Get the recipe here.
Southern glazed ham
Give your ham a candy-like sheen and sweetness with this graham cracker glaze. Get the recipe here.
Sugar bath ham
Soaking this Christmas ham in a sugar bath is pretty much all it takes to make a sweet, succulent holiday roast. Get the recipe here.
Brandied ham
If you're eager to start opening bottles of booze in the kitchen, Martha Stewart's brandied ham recipe is perfect for you. Get the recipe here.
Baked ham with honey mustard and apples
Thinly sliced apples layered into this ham add subtle sweetness and extra texture to your upcoming ham sandwich. Get the recipe here.
Slow cooker holiday ham with pineapple glaze
If you're the ham and pineapple type, this slow cooker recipe makes it easy to get your tropical ham fix without the pain of arranging each pineapple slice. Get the recipe here.