California rep proposes bill requiring rape charges to appear on college transcripts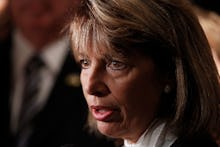 Rep. Jackie Speier (D-Calif.) on Thursday proposed the Safe Transfer Act, a bill that would require a student's rape charges to appear on their college transcript for five years following the resolution of their disciplinary hearings. If a student transfers schools while their case is still pending, the case would still remain on their transcript for a year.
If the legislation succeeds, it would be a huge victory for those fighting to end campus sexual assault, as only two states — Virginia and New York — currently require colleges to indicate a student's rape charges on their transcript. 
Many people have slammed the disciplinary process of campus assault cases, maintaining that it favors accusers and destroys the lives of young men. But Speier pointed out that, in truth, many students facing sexual assault allegations will walk away relatively unscathed — even if they are found guilty.
"Universities and colleges are perfectly willing to include academic infractions like plagiarism on students' records, yet students who have committed sexual assault can walk away from campus with a clean academic bill of health," Speier said in a statement, BuzzFeed reported. 
She said the discrepancy reveals that schools take plagiarism more seriously than they do sexual assault, a veritable epidemic on college campuses across the country.
"My bill will ensure that students who try to transfer schools to avoid the consequences of their violent acts will, at a minimum, face the same consequences as students who transfer because they've cheated on an exam," Speier said.
Oftentimes those found responsible of sexual assault will finish their education at another college, where, perhaps believing they have done nothing wrong, they could go on to commit another act of assault.
Following ex-Stanford University student Brock Turner's sexual assault sentencing, former U.S. Department of Justice sex crimes prosecutor Shan Wu said to Mic, "He might learn to be more careful — but if his attitude is that it's not a crime, that it was OK behavior, he is apt to do it again.
"The risk [to society] is quite high if someone doesn't believe they've done anything wrong."
There's indeed a precedent for this kind of repeat offender.
Football player Sam Ukwuachu transferred to Baylor University after he was accused of choking his girlfriend at Boise State University in 2013. Two years later, he was found guilty of raping a Baylor freshman. In 2014, Brandon Austin successfully transferred to the University of Oregon after being accused of sexual assault at Providence College. While at Oregon, Austin was among three basketball players who were found responsible for gang rape and was removed from campus.
While some adversaries to Speier's bill worry about the "rights of the accused," other advocates for Title IX and women's rights say it could be an important key to stopping campus rape in its tracks.
"It is sickening to think that a student found responsible for sexual assault could go on to commit the same crime at another school," National Organization for Women president Terry O'Neill said to BuzzFeed. "Representative Speier's Safe Transfer Act would take an important step toward preventing such violence by ensuring that colleges are informed when a transfer student has committed sexual assault."