'I Don't Wanna Live Forever' Lyrics: Words to the new 'Fifty Shades Darker' song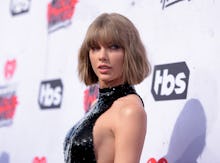 One of the more anticipated films of 2017 is Fifty Shades Darker, the follow-up to Fifty Shades of Grey. The first film, based off the book by author E.L. James, became a massive hit, earning over $570 million worldwide and, until being unseated by Deadpool, secured the largest opening weekend ever for a February release. Fifty Shades Darker should do big business as well, as its initial trailer set records (which have since been broken) for most views in a 24-hour period. Now, Taylor Swift and Zayn Malik have teamed up for what will be the sequel's likely popular song, "I Don't Wanna Live Forever". 
Fifty Shades of Grey featured the popular song "Earned It" by The Weeknd, earning the artist an Academy Award nomination for best original song. While it's too early to tell whether "I Don't Wanna Live Forever" will receive a similarly positive reception, it is another predictably catchy song from Swift.
Haven't listened to it yet? Check out the video at the bottom of the page. Oh, and if you want to sing along, here are the lyrics (via Genius): 
[Verse One: Zayn]
Check out the video for "I Don't Wanna Live Forever" below: 
Mic has ongoing Fifty Shades Darker coverage. Please follow our main Fifty Shades of Grey hub.