'Fuller House' Season 2: Who does DJ choose?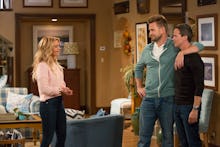 When Fuller House ended its first season, DJ Tanner walked away from a choice — whether to date high school sweetheart Steve or new man Matt — and instead opted to find companionship with her sister and best friend. Season two of Netflix's Full House reboot, sadly, has no time for such nuance.
[Editor's note: Spoilers ahead for the second season of Fuller House.]
Yes, despite hopes that DJ might choose herself once again, the new season of Fuller House does have her make a decision. While the premiere throws her for a loop — both Steve and Matt have new girlfriends — Matt ultimately breaks up with his partner, Crystal, in episode five, declaring his love for DJ. Luckily for him, she declares it back.
There's some momentary doubt on DJ's part when she dances with Steve at her high school reunion in episode 11, but she shakes it off and pledges to be friends with Matt forever. In the finale, Steve even seeks her help in proposing to his new girlfriend, CJ. (Yes, CJ.)
It may not be as unconventional as choosing no one, but DJ's choice does at least put to rest one of season one's most burning questions. Not 'who does DJ choose'; rather, Fuller House allows DJ to find committed love after becoming a widow. After going through the grieving process and giving herself time to make her decision, she's finally able to open herself up to love.
Fuller House season two is available to stream on Netflix now.