Here's how much it costs to make an episode of 'The Walking Dead'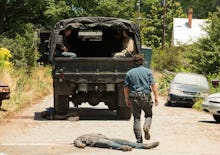 The Walking Dead is an immensely popular series, which, even with a decline in viewership for season seven, is a cable ratings powerhouse. Typically what this means is the network that owns the show — in the zombie drama's case, that'd be AMC — is willing to give the series a larger budget to work with. Take Game of Thrones, which had an insane budget of $10 million per episode from HBO for season six. 
So where does The Walking Dead land by comparison? 
AMC has been more frugal with the budget for the series, considering budgetary issues were a primary reason its first showrunner, Frank Darabont, was fired. Darabont worked on the series for its first and second seasons, which, for longtime fans, will be remembered as some of the highest and lowest points for the show. On one hand, the first season was a great introduction, starting with an engrossing pilot that followed Rick's first steps in the post-apocalyptic world. 
The second season, meanwhile, will forever be known as the season with Hershel's farm. In other words, it was a boring slog. Darabont currently has a lawsuit against AMC (you can read about in length here), and one of the main issues Darabont had with the network was its approach to season two, as it cut the budget and seemingly left Darabont with no choice but to stick everyone on the farm for an extended period of time. 
To that end, he says that the network cut the budget from "$3.4 to $3," in reference to the millions of dollars for producing episodes. That, ultimately, is our best look at what AMC puts in to produce The Walking Dead, and even then, that's according to the disgruntled former showrunner who, understandably, wanted a bigger budget. 
While AMC might assume a Spartan-like method of frugality for its show relative to its ratings as the most-watched series on cable, it's raking in the cash for ad space during episodes. According to Variety, in 2013 The Walking Dead became the most expensive scripted series to buy 30-second ad spaces for, with the series earning about $326,000 per spot. 
Perhaps The Walking Dead's seventh season has assumed a larger budget, however. There's a CGI tiger named Shiva; she's glorious, and looks expensive. Sadly, given AMC's frugal history, that probably means Shiva has a short shelf life on the show, so let's appreciate her while we can. 
Mic has ongoing Walking Dead coverage. You can follow our main Walking Dead hub here.