Donald Trump somehow found a way to gripe about being named 'Time' Person of the Year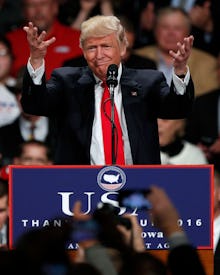 During Thursday night's stop on his "Thank You" tour, President-elect Donald Trump spoke to a Des Moines, Iowa, crowd about being named Time's Person of the Year. While Trump had previously told Today that getting the cover spot was a "tremendous honor," Trump was singing a slightly different tune in Iowa, suggesting that the wording of the title was a concession to "political correctness."
"I was lucky enough to receive the Time Person of the Year," Trump said. "They used to call it 'Man of the Year,' but they can't do that anymore, so they call it 'person.' They want to be politically correct. That's OK."
Trump is right that Time used to use the phrase Man of the Year, and didn't officially switch to using the gender-neutral "person" until 1999 — but the designation first went to a woman in 1936, when socialite Wallis Simpson landed the cover under the adjusted title "Woman of the Year." Since then it's gone to a few more women as well as archetypes, like "The Hungarian Freedom Fighter" in 1956, "The Middle Americans" in 1969 and "The Protester" in 2011. 
The real estate billionaire made the so-called war on "political correctness" a central tenet of his presidential campaign, and it was an offensive that seemed to strike a chord in many of those who ultimately came to support him. A Pew Research Center survey from July found that 83% of Trump supporters believe "too many people are easily offended" by language, compared to just 39% of Hillary Clinton supporters.
And Trump has played hard to this sentiment. "I'm so tired of this politically correct crap," he told a crowd in South Carolina during a rally in 2015.
But changing Time's yearly designation from Man of the Year to Person of the Year isn't a fold to political correctness — it's just, well, accurate.