Bernie Sanders calls Trump a "pathological liar" in scorching interview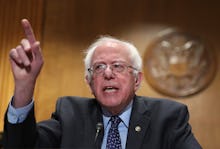 Sen. Bernie Sanders joined in the chorus of critics condemning President-elect Donald Trump's public attacks on Carrier union leader Chuck Jones, saying "the word 'incredible' or 'unbelievable' is no longer applicable to Mr. Trump" when describing Trump's comments.
In an appearance on MSNBC's All In With Chris Hayes Thursday night, Sanders also called Trump a "pathological liar" who can't be trusted to stand up for workers.
"What do you do when you have a president-elect, soon to be president, who — and I say this not happily, but I think most people who observe him would agree — is a pathological liar who changes his mind every single day?" Sanders said in response to Hayes' question about whether Trump supporters will hold him responsible for the economy once in office.
"You're asking, 'Does any of that matter?'" Sanders continued. "And I think the answer, and I am working very hard on this and we need the help of the American people, obviously, is to build a movement of millions of people who actually are following reality."
The Vermont senator and former presidential candidate defended Jones, the leader of United Steel Workers Local 1999 in Indianapolis. Jones criticized Trump for exaggerating the number of jobs that would be saved by Trump's deal with Carrier, the air conditioning manufacturer. 
Trump originally said 1,100 Carrier jobs would remain in the United States in exchange for tax breaks. But that number included some jobs that the company was never planning to send to Mexico, meaning about 800 jobs will be saved. After Jones said Trump "lied his ass off," the president-elect tweeted that Jones "has done a terrible job representing workers."
Sanders said Trump's motivations to pick a fight with a local labor leader are part of a broader message.
"To attack a local labor leader in Indianapolis who has fought valiantly ... to protect the jobs of his steelworkers is really unbelievable," Sanders said. "But, as is usually the case with Mr. Trump, there's more beneath the surface, and that is what he was really doing, I think, which was sending a message to the entire trade union movement: 'Do not stand up for working people, or we're going to go after you.'"