J. Cole '4 Your Eyez Only' tracklist: Top tracks from the MC's raw, emotional new album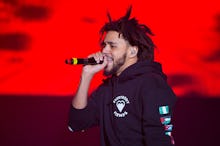 Jermaine Cole is dead set on keeping his platinum with no features title going. 
It first became part of his alias after his previous featureless album, 2014 Forest Hills Drive, went platinum (eventually double platinum) in 2015. And for his fourth studio album, 4 Your Eyez Only, he's looking to repeat that trick. The album, which dropped on Friday, includes no featured guest artists and minimal writing help, according to the credits. It has led to some gleefully merciless digs on rap Twitter, aimed at some of the very same artists Cole may have took to task on "False Prophets," the cut that sparked the rampant anticipation for this album but oddly did not make the final track list.
After even a single listen to 4 Your Eyez Only, that omission begins to make sense. The album offers a raw glimpse at the contents of Cole's mind, and for the most part he's thinking about much deeper issues than the careers of rap's heavy hitters. 
He takes aim at systematic and cultural racism, his coming to terms with the responsibilities of fatherhood, survivor's guilt and grief, among many of life's darker corners. Here are a few breakdowns of the album's standout tracks.
"For Whom the Bell Tolls"
In the midst of the 2014 Ferguson protests, Cole revealed another dimension of his vocal abilities: his blues voice. He dropped "Be Free" with its plaintive sung chorus: "All we wanna do is take the chains off." 
The opener of 4 Your Eyez Only, "For Whom the Bell Tolls" channels a similar plea for freedom, this time from his own doubts and depression. "Tired of feeling low even when I'm high/ Ain't no way to live, do I wanna die?" Cole asks himself over soft African chimes, before answering the brutally honest question: "I don't know." It immediately sets a very different tone from the optimistic intro of 2014 Forest Hills Drive.
"Immortal"
Cole opens "Immortal," a hard-hitting stream of meditation on his position in rap and the black man's position in America, with a reminder of who he is and where he's been. "I was barely 17 with a pocket full of hope," he raps. "Screamin,' dollar and a dream with my closet lookin' broke." 
He then winds out stories about hustling on the corner, building towards his present station. But the joy of the rags-to-riches storyline is tainted by the rarity of his rise. "They tellin' niggas sell dope, rap or go to NBA, in that order," Cole spits. "It's that sort of thinkin' that been keepin' niggas chained/ At the bottom and hanged/ The strangest fruit that you ever seen, ripe with pain."
"Ville Mentality"
Track four, "Ville Mentality," unfolds more of the album's major themes over a shuffling soul beat. Cole includes interludes from a girl who lost her father to gun violence, talking about the scars it left in her family. 
The song's title is a nod to his hometown of Fayetteville, with the mentality in question being the feeling that he had to get out at all costs to achieve his dreams, despite all the disruption it would cause himself and those around him. "I realized the opportunity is in your mentality," he says in his 2014 Forest Hills Drive: Homecoming documentary, according to the Fayetteville Observer. "I didn't necessarily have to leave Fayetteville to do what I did. You can be great in this place and make this place great."
"She's Mine, Pt. 2"
"She's Mine, Pt. 2" is one of two tracks dedicated to the two most important people in Cole's life: his wife and his daughter. The song deals with the new responsibilities of fatherhood and the meaning it's given his life. "Am I worthy of this gift/ Am I strong enough to lift, into a place that I can see/ Someone more important than me?" he croons on the hook. 
It's a transcendent, lullabic moment of calm in an otherwise tumultuous album, though it also raises the stakes of every other bar Cole spits on the album. Every bullet, every struggle that Cole discussed not only affects him, but will define the way his daughter gets to know the world. 
"4 Your Eyez Only"
Continuing the themes of "She's Mine, Pt. 2," the album's title track is a letter to Cole's daughter and a letter to the daughter of a recently deceased friend. Cole recounts his friend's life story, talking about losing his dad, seeing his mother struggle with addiction and watching his dreams evaporate. He also deals with crooked cops and the ways in which hip-hop skewed his perception of what being a man entailed as he was growing up. 
Speaking to his daughter: "I pray you find a nigga with goals and point of views/ Much broader than the corner, if not it's gon' corner you/ Into a box, where your son don't even know his pops/ And the cyclical nature of doing time continues."
It's a bold wish, but if he aimed any lower, Cole wouldn't be double platinum with no features.