'Spider-Man: Homecoming' trailer: How the new Marvel movie connects to the Avengers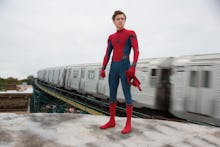 Tom Holland, the 20-year-old English actor, has officially taken over the role of Spider-Man, and unlike Andrew Garfield and Tobey Maguire before him, the young dude is playing the superhero as a 15-year-old. We saw a little bit of Holland's take on Spider-Man in Captain America: Civil War, but the first trailer for his stand alone film, Spider-Man: Homecoming, has arrived, and shows that the relationship Spider-Man forged with the Avengers in the Captain America film is a lasting one.
While the Garfield and Maguire Spider-Man films were self-contained (Sony Pictures only recently gave the rights to the character to Marvel), with the hero never appearing alongside other heroes from the Marvel universe, the same thing can't be said for Holland's Spider-Man. From the trailer alone, it seems like Tony Stark (Robert Downey Jr.) will continue to have a huge influence on the teenage Spider-Man.
What we know about Spider-Man from Captain America: Civil War
Captain America: Civil War was released in May of 2016, and Holland was announced as the new Spider-Man almost a year earlier, in June of 2015. While Spider-Man: Homecoming won't hit theaters until July 7, 2017, fans eager to see Holland in action got a glimpse of him in the third film about Captain America, a film that saw a schism form between the Avengers. Many of the superhero team found themselves allying with pro-regulation Tony Stark/Iron Man, and the others, against supervision from the American government, with Steve Rogers/Captain America. 
Stark recruited both T'Challa/Black Panther and Peter Parker/Spider-Man in the film, and Holland appears in two scenes. The first is with his aunt May Parker (Marisa Tomei), where Stark first picks up the young teenager. He also appears in a battle scene, and, as evidenced in the Captain America trailer, he can hold is own.
Last year, Holland spoke with website HeyUGuys in an interview about working alongside Downey in for Captain America: Civil War. Right off the bat, Tony Stark plays a mentor/father figure to Parker.
"It was pretty daunting at first. I'm not going to lie," Holland said. But working with Robert, especially, he's such a nice, warm, easy-going guy. I instantly felt at home. I actually felt comfortable and had nothing to worry about." 
What we know about Spider-Man from the Spider-Man: Homecoming trailer
The first trailer for Spider-Man: Homecoming not only gives a closer look at Holland's rendition of the superhero, but it also gives a little more insight into his day to day life attending high school in Queens, New York. We see his close friends, his love interest, and what looks to be a substantial appearance by Tony Stark.
Based on the trailer, it looks like Stark continues to have a role in Parker's life after what happened in Captain America, and seems to sympathize with Parker's struggle grappling with being a superhero and an average kid. In one bit from the trailer we see him offer some fatherly/superhero advice.
"Listen, I know school sucks," Stark says. "I know you want to save the world. But, you're not ready yet." 
Spider-Man: Homecoming will hit theaters on July 7, 2016. The film is directed by Jon Watts. In addition to Holland and Downey Jr., the movie also stars Zendaya, Marissa Tomei, Michael Keaton and Donald Glover.