Who is Virginia Williams? 9 things to know about Steve's girlfriend on 'Fuller House'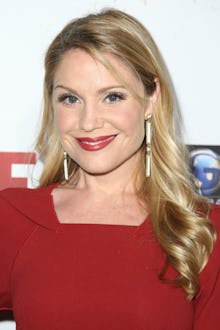 Virginia Williams may not be a household name, but TV addicts may recognize her from any number of shows or made-for-TV movies. The blonde, Southern actress plays Steve's girlfriend, C.J., on season two of Fuller House, hence the recent Internet buzz about her. Here are nine things you may not have known about this multi-faceted actress.
1. She's a Tennessee girl.
A native of Memphis, Williams hasn't forgotten her roots. She collaborated with Southern Living on a guide to her hometown and, if you follow her on Twitter, you'll note that she retweeted a couple of statuses about the Tennessee wildfires. On a related note, she really loves Dolly Parton.
2. She has a background in soap operas.
Williams played Lorna on One Life to Live, which was her first professional acting job, as well as Brandy on As the World Turns. She first started acting in soaps in 1995!
3. She also has a background in Shakespeare.
After graduating from Fordham University at Lincoln Center in New York, Williams studied the Bard at Oxford University and the British American Drama Academy in England.
4. She's a Lifetime star.
Why, yes, she was in Lifetime's Monarch's Cove (2006). She played Bianca Foster, who spent six years in prison after she was wrongfully convicted of her father's murder.
5. She's appeared on How I met Your Mother.
Williams showed up as Claudia for five episodes of How I Met Your Mother. The episodes spanned from 2006 to 2013 and include "The Wedding," "Drumroll, Please," "Intervention," "Baby Talk" and "The Poker Game."
6. She played Lauren Reed on Fairly Legal
Despite her many TV credits, Williams is likely best known for her starring part as Lauren Reed on Fairly Legal. The dramedy about a woman who quits her job as an attorney at her father's law firm to launch a new career also stars Sarah Shahi and Michael Trucco.
7. You've seen her many other places
Williams definitely is a hustler. Her list of TV credits, for both series and movies, is long. She's popped up on The Mentalist, Rules of Engagement, Better Off Ted, Lie to Me, In Plain Sight, Two and a Half Men, My Wife and Kids, Jack & Bobby, As the World Turns, Veronica Mars, Drop Dead Diva, and other shows, including multiple pilots.
8. She is a real-life mom
There are plenty of photos of her little bundle of joy on Instagram. Her son recently turned a year old.
9. She's also a real-life dog mom.
There's no shortage of dog pictures on Williams' Instagram feed, either. Her pooch is named Elvis and you'll find him wearing all sorts of costumes.