'Super Mario Run' Android Release Date: Here's why you have to wait to download the game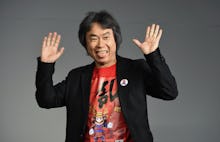 Super Mario Run is set to hit iOS devices next week (you can already demo the game at the Apple Store), but Android users still don't have a set release date. Now we finally know why some Mario fans will have to wait longer than others to download Super Mario Run.
Super Mario Run Android release date: What's taking so long?
Shigeru Miyamoto, the man who helped invent Mario and produced the new game, explained why Super Mario Run is coming to iOS first in an interview with Mashable. The issue boils down to piracy and a desire to protect the game from hackers. 
Here's why the Super Mario Run Android release date is taking so long, in Miyamoto's own words:
For us, we view our software as being a very important asset for us. And also for consumers who are purchasing the game, we want to make sure that we're able to offer it to them in a way that the software is secure, and that they're able to play it in a stable environment...
In a quick follow-up, Miyamoto confirmed that he was referring to the risk of piracy, adding that the game's simultaneous launch in 150 countries makes the release even more complicated.
Super Mario Run release date: Everything you need to know for Dec. 15
Super Mario Run is set to launch on iOS devices on Dec. 15, but there's plenty you can do in the meantime. If you live close to an Apple Store you can even demo it right now. 
Mic also confirmed that the game will take up a whopping 370MB of storage space. So you may want to clear up some room on your iPhone ahead of time, especially if you're using a 16GB device.
More Super Mario Run news and update
If you want to know more about Super Mario Run, walk calmly toward's Mic's latest coverage, like our review of the demo, information about how and where to play a demo of the game before it comes out, early predictions about whether Nintendo's iPhone-first approach is helping or hurting its chances of success, and a list of Android games to play while you wait.