Donald Trump creates massive "safe space" to keep feminists away from inauguration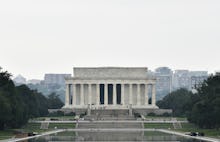 The Women's March on Washington was slated to take place at the Lincoln Memorial on Jan. 21. According to a Facebook event page, more than 138,000 were expected to march to "send a bold message to our new administration on their first day in office, and to the world that women's rights are human rights," according to the event page. But now, marchers will have to find a new space to send that message. 
On behalf of the Presidential Inauguration Committee, the National Park Service has taken precautions to secure large areas of Washington, D.C., in observance of Inauguration Day, the Guardian reported. The legislation also established a "massive omnibus blocking permit" for several of D.C.'s landmark political locations — including the Lincoln Memorial — for time both before and after Jan. 20, when the president-elect will officially be inaugurated. 
Mara Verheyden-Hillard, executive director of the Partnership for Civil Justice Fund, said in a press conference for the Answer Coalition that she has led court battles to allow protests on Inauguration Day, but banning access to public land for protesters after Inauguration Day is unique. 
"It hasn't come up in any way previously, where you've had a groundswell of people trying to have access on the Saturday, Jan. 21, and thousands of people want to come, and the government is saying we won't give you a permit," Verheyden-Hillard said. "What they've done is take all of these spaces out of action." 
A place of historic protests
The Lincoln Memorial has long been considered a quintessential site of historic dissent. While it was built in 1922 to heal national divisions after the Civil War, many believed Abraham Lincoln's promise of freedom was far from accomplished once the building was erected. Protesters saw the memorial as a symbolic space for civil rights movements in the first half of the 20th century, according to the National Museum of American History. 
On May 17, 1957, 25,000 demonstrators rallied at the Lincoln Memorial for a Prayer Pilgrimage for Freedom, urging the federal government to fulfill the then-3-year-old Brown v. Board of Education decision, which determined that separation of black and white students in public schools is unconstitutional.
The Prayer Pilgrimage for Freedom gave national prominence to Martin Luther King Jr., who six years later delivered his famous "I have a dream" speech just a few steps away from the Abraham Lincoln statue. In 1967, 100,000 demonstrators filled the memorial space during the March on the Pentagon, as radicals, liberals, women's groups and others protested the war on Vietnam. 
The Lincoln Memorial has continued to inspire today's organizations that are eager to make their voices heard, especially after a bitter presidential election that has emboldened more people to organize, according to the Washington Post. In addition to the Women's March on Washington, about 20 groups are awaiting permits for demonstrations for when Trump takes the White House. However, the National Park Service cannot grant such requests until the Presidential Inaugural Committee establishes where it wants to hold inauguration-related activities.
For now, it remains to be seen whether protesters will be able to come up with a plan B. "Since we don't have the permits, we are in a holding pattern — what can we do?" Kathy Mulady, press secretary of People's Action, told the Washington Post. People's Action, an organization that champions economic fairness, applied for permits on Nov. 14. 
What Twitter is saying 
The decision to block the public use of the Lincoln Memorial to protest has sparked many reactions on Twitter:  
Twitter user M. Wright took issue with the country's "overwhelmingly oppressive history with women's rights."
NBC News legal analyst Lisa Bloom said: "If you're anything like me Trump's inauguration's filing of 'massive omnibus blocking permit' will fire you up to go."
Twitter user Cynthia Griffin said: "This is how it starts, he has victory tour & we can't assemble w/out his presence/permission! Remembr [sic] China in 1989?"
Despite the National Park Service's decision, others are determined to march: "Hey @realdonaldtrump there are more amendments than the 2nd! #WomensMarch is a 1st amendment right. Lincoln Memorial or not- we march!"
Members of the Women's March on Washington announced that they have secured another area to protest. They declined to disclose where the protest will take place, although they claimed it will be nearby.