'Fuller House' season 2 breaks the fourth wall by addressing Mary-Kate and Ashley Olsen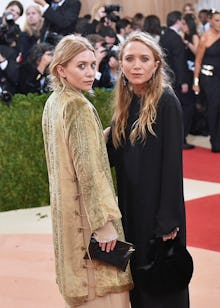 In its first season, Fuller House memorably (and in a somewhat groan-worthy fashion) nodded at Mary-Kate and Ashley Olsen's refusal to return to play Michelle Tanner by breaking the fourth wall, staring right at the audience. In the second season, they do it once again.
[Editor's note: Spoilers ahead for the second season of Fuller House.]
During the season's sixth episode, a Thanksgiving special, DJ offers a blessing before dinner in which she thanks God for collecting the whole family for the holiday. Then she acknowledges that one member is indeed missing.
"We miss Michelle," DJ says. "Hope that she'll be with us next year."
Then Uncle Jesse (John Stamos) leans back in his chair, looks directly at camera, and says, "Come, it'll be fun."
The division between the Olsens and the rest of the Full House cast is rather infamous at this point. The creators had to write around her absence in season one after Stamos and company publicly pressured them to reappear, even for a cameo. There was reportedly no change in the Olsen twins' position between the seasons, and the fourth wall-breaking on Stamos' part bears that out.
So Michelle likely won't be making any appearances in the Fuller House household — but the Netflix reboot will almost certainly keep drawing attention to her absence anyway.