Scott Pruitt Climate Change: How many global warming deniers are on Trump's team?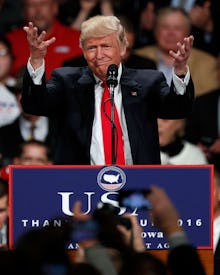 Advocates for climate change were incensed this week after President-elect Donald Trump appointed noted climate change denier Scott Pruitt as head of the Environmental Protection Agency.
Though Reuters points out that there are many existing environmental regulations that may not be so easy to reverse, climate change denial is shaping up to be a widespread epidemic on Team Trump. Here are the major climate change deniers currently on Trump's transition and proposed White House team.
Energy, NASA, interior and the EPA
The four major departments with the most effect on the environment — energy, interior, NASA and the EPA — are home to many of Trump's most problematic allies in terms of climate change. 
Though Trump has yet to officially appoint a secretary of energy, the department's transition team is currently being led by Thomas Pyle, a former Koch lobbyist who now leads the American Energy Alliance wing of the Institute for Energy Research. The AEA and IER both reject the findings by mainstream climate scientists on global warming, making them, the Los Angeles Times notes, a favored think tank group among climate change deniers. 
Another rumored pick for energy secretary is conservative Democratic Sen. Joe Manchin of West Virginia, who has received $685,698 in donations from the coal industry and $287,650 from the oil and gas industries. In 2013, Manchin openly criticized President Barack Obama's climate change proposal as imposing "unreasonable restrictions that will have disastrous consequences for not only the coal industry, but also American jobs and the economy." 
Meanwhile, the EPA transition team is currently being led by high-profile climate change skeptic Myron Ebell, who leads the libertarian advocacy group the Competitive Enterprise Institute. Other members of the EPA transition team include Energy Policy Center for the Independence Institute executive vice president Amy Oliver Cooke, who has described herself as a "mother in love with fracking," and lawyer David Schnare, who Bloomberg reports once equated agency-funded studies on human exposure to airborne pollutants with Nazi war crimes.
NASA advisor: no "politicized science"
NASA's funding for climate science research is also up in the air now under Trump's administration, with Trump advisor on space agency issues Bob Walker saying that Trump's decisions "will be based upon solid science, not politicized science." Joining Walker on Trump's NASA transition team is Chris Shank, deputy chief of staff to Rep. Lamar Smith (R-Texas). Shank, according to Climate Central, has compared those skeptical about climate change to Galileo, due to the belief that global warming skeptics, unlike "mainstream" climate scientists, are using "evidence-based science."
Likewise, the Department of the Interior — which controls the country's public land — is not looking any more optimistic for climate change advocates. Currently leading Trump's transition team is Doug Domenech, who leads the Fueling Freedom Project, an initiative by the Texas Public Policy Foundation. The Project, as stated on their website, has a mission to "explain the forgotten moral case for fossil fuels" and openly opposes Obama's Clean Power Plan. The initiative also supports filing lawsuits against the EPA and measures that would "protect states from EPA overreach."
A leading candidate for to be tapped as interior secretary, the New York Times reports, is Rep. Cathy McMorris Rodgers (R-Wash.). During her time in Congress, OnTheIssues reports, McMorris Rodgers co-sponsored the Free Industry Act, which would prevent the EPA from regulating greenhouse gasses. She also signed the "No Climate Tax Pledge," which stated that she would oppose any climate change legislation that would increase government revenue.
A widespread issue
Of course, climate change denial on Trump's team goes far beyond these four departments. Other high-profile Trump picks that have a record of climate change skepticism include: 
?• Attorney general pick Jeff Sessions has said climate change predictions "aren't coming true." He also alleges that funding that goes toward climate change ultimately hurts the poor. In a 2015 hearing, the Washington Post reports, Sessions said: "Carbon pollution is CO2, and that's really not a pollutant; that's a plant food, and it doesn't harm anybody except that it might include temperature increases."
?• Ken Blackwell, head of domestic issues for Trump's transition team, once referred to climate change as a "hoax" and a "false environmentalist narrative in the Washington Times, writing: "It turns out the models were rigged, the data were falsified and, in fact, there has been no measurable warming for nearly 20 years."
?• National security advisor Lt. Gen. Michael T. Flynn said on Fox News in the wake of the Orlando attacks, "And here we have the president of the United States up in Canada talking about climate change. I mean, God, we just had the largest attack ... on our own soil in Orlando. Why aren't we talking about that?"
• Though never publicly stating a position on climate change, Trump's pick for United Nations ambassador, South Carolina Gov. Nikki Haley, accepted hundreds of thousands of dollars in donations from the oil, gas and electric utility industries in her position as governor and opposed the EPA's proposed plans for regulating carbon emissions for power plants.
• CIA director nominee Rep. Mike Pompeo (R-Kan.) wrote in a press release responding to Obama's 2015 trip to Paris for the U.N. climate change summit, "President Obama has called climate change the biggest national security threat of our lifetime, but he is horribly wrong. ... His perverse fixation on achieving his economically harmful environmental agenda instead of defeating the true threats facing the world shows just how out of sync his priorities are with Kansans and the American people."
• Proposed Department of Housing and Urban Development head Dr. Ben Carson, who told the San Francisco Chronicle during his presidential campaign: "There is no overwhelming science that the things that are going on are man-caused and not naturally caused. Gimme a break." The then-candidate, however, did also note his desire for "more than 50%" clean energy "by 2030," and told supporters in a speech: "I don't care whether you are a Democrat or a Republican, a liberal or a conservative, if you have any thread of decency in you, you want to take care of the environment because you know you have to pass it on to the next generation."
The Trump team's mass climate change denial also comes right from the top, with chief strategist Steve Bannon and Chief of Staff Reince Priebus also taking hard stances against climate change. Bannon's site, Breitbart News, has run stories with such headlines as "Climate Change Deal a Threat to U.S. Sovereignty" and "1,001 Reasons Why Global Warming is so Totally Over in 2016." In an article for the Spectator, Breitbart writer James Delingpole wrote of Bannon:
One of his pet peeves is the great climate-change con. It's partly why he recruited a notorious sceptic like myself. ... [Bannon's appointment] is great news for science (the sort that cleaves to empiricism, rigour and the scientific method), great news for the global economy and great news for the handful of journalists who've been saying for years that the climate emperor has no clothes. Basically, we won.
Priebus, meanwhile, said in a 2015 speech at the Conservative Political Action Conference, "Democrats tell us they understand the world, but then they call climate change, not radical Islamic terrorism, the greatest threat to national security. Look, I think we all care about our planet, but melting icebergs aren't beheading Christians in the Middle East."
Priebus also acted as a clarifier for Trump's remarks on climate change after the president-elect told the New York Times that he would have a "very open mind." In an interview with Fox News, Priebus emphasized Trump's climate change skepticism with a statement that likely represents the incoming administration's stance overall: that most of it is "a bunch of bunk."