How ASOS is bucking the influencer trend by helping to promote unknown artists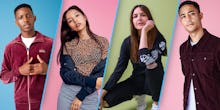 Brands today have it so easy. If they're ever looking for a impressive person to represent them or help them reach new audiences, all they have to do is scroll through Instagram and see whatever person has the most followers and, therefore, the most influence.
There's Kendall Jenner, with her 70 million followers, who's currently backed by brands like Estée Lauder, Calvin Klein and Balmain. There's Justin Livingston, with his 200,000 followers, who's backed by brands like Axe, Perry Ellis and Abercrombie and Fitch. There's Arielle Charnas, a fashion blogger with 900,000 followers, and she works with brands like DSW, Christian Louboutin and North Sails. 
To a fashion brand looking to make a splash (and some press), these people are all they really need. But that is a brand latching onto something already commodified, and capitalizing off of it. There's no risk. There's little excitement. 
ASOS has a different approach. 
With its new program ASOS Supports Talent, the company isn't looking to boost voices that are already loud and clear on the internet, but boost the voices of talented young people who are relatively unheard, most with just a few thousand followers on Instagram each,  but still have something important to say.
"We take a very democratic approach to fashion, so we love working with people who embody those values themselves," Rachel Bremer, ASOS's communications director, said in an interview. "That may sometimes be a 'social media influencer' who has an established following, but there are an unbelievable number of young, talented people in the world who have yet to be discovered and don't have easy access to financing, mentoring or brand support."
Since the program launched late this summer, ASOS has picked eight talented young people in various different fields from some of their major international markets, like the United States, England, France and Germany. 
For those young people, ASOS promises to provide mentorship and opportunities for these young people to progress in their careers and bring their passions to life. 
How'd they find the right people? 
In order to find the right people, ASOS independently reached out to people directly, via Instagram or whatever was most accessible to them. 
"After lots of research, recommendations from the wider team and reviewing almost a thousand Instagram profiles, we started to focus in on people who had a strong point of view or a story they needed help telling," Bremer said. "We also chose people that we thought would shape popular culture and set future trends. It was important, of course, to get a mix of backgrounds, nationalities and areas of focus. We were overwhelmed by how many incredibly talented, inspiring creatives there are out there — it's a good problem to have." 
Because of this extensive research, the program is incredibly diverse. 
The chosen ones: For instance, there's Phillip Basone, a young American chef who opened up the pop-up restaurant of his dreams in New York with ASOS's assistance. 
"At first I really couldn't believe that after receiving a DM on Instagram that this is what would of come of it," Basone said in an interview. "To have such a massive corporation with such international status believe in a young, gay chef trying to pursue his dreams is still so mind blowing to me." 
Also from the United States is artist Elizabeth De La Piedra, who was able to document the life of one transgender woman, Rashida Renée, in a photography series and show titled "Rashida," because of ASOS's financial support. 
"It meant so much to have a collective of people recognize my efforts and support my vision," De La Piedra said. "I've never had that before." 
As far as international talent goes, there's Elf Kid from the U.K., who, with ASOS's help, was able to create a music video in Ethiopia. 
And there's rapper Loyle Carner, 21, grew up with ADHD and loves to cook. ASOS is helping him establish a charity for his cooking initiative Chilli Con Carner, which teaches children with ADHD how to cook. 
Other talents include German artist Kim Kanert, who has been taking videos and painting organ donors for a mixed-media piece, and French photographer, director and musician Diane Sagnier, whom ASOS is helping produce a music video that shows her pilgrimage to Roswell, New Mexico, in order to indulge her fascination with UFOs and aliens. 
"ASOS has a long history of supporting young talent — from the brands we stock to the photographers we work with to the models we use, it's really part of our DNA," Bremer said. "And we know it's important to our 20-something customers. ... They love the idea of finding people who are on the verge of something big and really getting behind them to help make that success possible." 
So take this as a sign that maybe the influencer trend is losing steam. There is, after all, so much other talent worth boosting out there.