How long is the Critics' Choice Awards?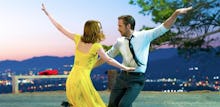 Cinephiles rejoice! Awards season comes early this year. Rather than airing after the new year, the 22nd Annual Critics' Choice Awards will air Dec. 11, live on A&E. While not given quite as much weight as the Academy Awards, Golden Globes and Screen Actors Guild Awards, the Critics' Choice Awards are becoming a bigger deal, and may shed some early light on how the rest of awards season will unfold in the next several months. 
How long does the show run?
The 22nd Annual Critics' Choice Awards will be broadcast live on A&E at 8 p.m. Eastern on Sunday, Dec. 11. According to TV Guide, the awards show will run for just over three hours, with a scheduled stop time of 11:15 p.m. Eastern. So, if you are going to miss the show, set your DVRs accordingly. 
The reason for the lengthy event is that there are 23 awards up for grabs in television, and 27 awards that will be handed out to films. You can check out the entire list of nominees here. 
In television, HBO leads all networks with 22 nominations, while FX's The People v. O.J. Simpson tops all programs in television nominations, earning six. Game of Thrones earned five nominations and Netflix's House of Cards received four nominations.
On the film side, La La Land, staring Ryan Gosling and Emma Stone, leads all pictures with a healthy 12 nominations, including best picture.