Linda McMahon, Trump nominee for SBA, donated $7M to his campaign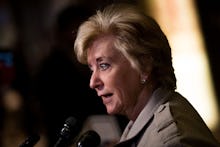 World Wrestling Entertainment co-founder Linda McMahon was more than a vocal Donald Trump supporter during the 2016 campaign. She contributed $7 million to pro-Trump super PACs, CBS News reported Friday. 
The Trump transition officially announced McMahon as Trump's nominee to lead the Small Business Administration on Wednesday. Like others members of Trump's cabinet, McMahon's fortune is vast. But her support of his campaign is much larger than some other Trump nominees. For example, Wilbur Ross, Trump's pick for Commerce secretary, supported Trump and the Republican Party with hundreds of thousands of dollars, not millions.
The appearance of "pay-to-play" is noteworthy given the attacks Trump leveled at Hillary Clinton for contributions her foundation received from foreign governments while she was secretary of state. In contrast to McMahon's $7 million support of Trump, a contribution from the Qatari government to the Clinton Foundation became an issue late in the 2016 campaign. 
McMahon has used her money to advance Republican politicians before, including herself. She ran unsuccessfully for the Senate in Connecticut in 2010 and 2012, pouring millions of dollars of her own money into her campaign.
The Small Business Administration provides loans and federal support to small businesses across the country.