2016 Election Cyberattack Investigation: Obama orders probe into possible Russian activity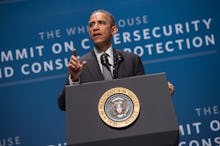 The White House has ordered an extensive intelligence report on the 2016 election to consider the potential role of cyberattacks and foreign interference, Reuters reported on Friday.
"The president has directed the intelligence community to conduct a full review of what happened during the 2016 election process, and to capture lessons learned from that and to report to a range of stakeholders, to include the Congress," homeland security adviser Lisa Monaco told a group gathered at a Christian Science Monitor event on Friday.
Monaco, who was a senior FBI official during the 2008 presidential election, said that the agency had to tell both Barack Obama and John McCain that China had conducted cyberattacks on both campaigns, Reuters reported.
"We've seen in 2008 and in this last election system malicious cyber activity," Monaco said. In October the Department of Homeland Security accused Russia of hacking into Democratic Party emails and said, in a joint statement with the Director of National Intelligence, that "only Russia's senior-most officials could have authorized these activities," the BBC reported. Russian officials responded at the time, calling the accusations "nonsense."
Monaco said on Friday that the intelligence review of the election would be concluded by the time Obama leaves office in January and its results would be shared with lawmakers.