Christian Siriano speaks out on dressing Melania Trump: "I need to see how it goes"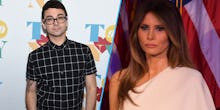 Designer Christian Siriano has finally broken his silence over whether or not he would consider dressing Melania Trump. 
In an interview with Access Hollywood, in which he gushed about dressing Michelle Obama at the 2016 Democratic National Convention, Siriano still seemed unsure about dressing Trump. 
"I think my response is, I'll let you know," Siriano said. "I think I need to see how it goes. That's my diplomatic answer." 
The statement comes a few weeks after Mic reached out to Siriano's team and were told he wasn't issuing any political statements at the time. Before the election, Siriano had endorsed Hillary Clinton for president. 
Siriano also told Access Hollywood that his hesitance stems from his own identity as a gay man. 
"Sadly, it's really just one of those things that has nothing to do with her, it's just obviously what she's representing in what's happening right now," Siriano said. "It would be hard for anyone, especially for someone like myself, a young gay fashion designer, I can't support a campaign where I might not have the same rights. I just got married. There's lots of deep things that get into it ... Hopefully things will be great." 
In announcing his hesitance of the Trump administration, he joins the many other designers who have spoken out with similar feelings as well.
For example, there's been Tom Ford, who's voiced no interest in dressing the incoming first lady, and there's been Jeremy Scott, who isn't too interested in dressing her yet because he simply doesn't really know who she is. 
Even before Inauguration Day, it's clear that fashion is taking sides.