7 empowering quotes from 2016 you can live by in the new year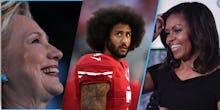 Let's be honest: 2016 was hard.
The world lost some of the most beloved and inspiring people: David Bowie, Alan Rickman, Prince, Muhammad Ali, Leonard Cohen, Gwen Ifill and recently, John Glenn. In June, we saw one of the worst mass shootings in U.S. history at the gay nightclub Pulse in Orlando, Florida. The presidential election was one of the most bizarre and psychologically tolling elections in recent history. Donald Trump was elected president despite multiple allegations of sexual assault and despite hateful rhetoric against Muslims, Latinos, refugees and women. In the immediate aftermath of the election, hate crimes against minorities skyrocketed. 
However, there is a silver lining. The traumatic moments that defined 2016 brought many Americans together. People stood in solidarity with LGBTQ communities after the Pulse shooting and marched in the streets to protest the election results. Women across the country mobilized and inspired a generation of young girls to aspire to be the next president of the United States. A coalition of activists and celebrities united with Native Americans on the Standing Rock Sioux reservation and proved that peaceful protests can overcome injustices implemented by big corporations and governments. 
There are many lessons to be learned from 2016. Thankfully, there's a plethora of quotes that can and should empower us in 2017:
Michelle Obama on how she told her daughters to rise above hateful rhetoric
That is what Barack and I think about every day as we try to guide and protect our girls through the challenges of this unusual life in the spotlight — how we urge them to ignore those who question their father's citizenship or faith. How we insist that the hateful language they hear from public figures on TV does not represent the true spirit of this country. How we explain that when someone is cruel or acts like a bully, you don't stoop to their level — no, our motto is, when they go low, we go high.
I'm not the next Usain Bolt or Michael Phelps. I'm the first Simone Biles.
Kaepernick explaining why he is willing to pay the price for kneeling during the national anthem
This is not something that I am going to run by anybody. I am not looking for approval. I have to stand up for people that are oppressed. ... If they take football away, my endorsements from me, I know that I stood up for what is right.
President Barack Obama's emotional tribute to Muhammad Ali's legacy
This is the Muhammad Ali who inspires us today — the man who believes real success comes when we rise after we fall; who has shown us that through undying faith and steadfast love, each of us can make this world a better place.
Hillary Clinton telling young girls to never stop reaching for their dreams during her concession speech
Now, I know we have still not shattered that highest and hardest glass ceiling but some day someone will and hopefully sooner than we might think right now. And to all of the little girls who are watching this, never doubt that you are valuable and powerful and deserving of every chance and opportunity in the world to pursue and achieve your own dreams.
Emily Doe powerfully defining what it means to be a survivor of sexual assault
So now to the one who said, I hope my daughter never ends up like her, I am learning to say, I hope you end up like me, meaning, I hope you end up like me, strong. I hope you end up like me, proud of who I'm becoming. I hope you don't "end up," I hope you keep going. And I hope you grow up knowing that the world will no longer stand for this. Victims are not victims, not some fragile, sorrowful aftermath. Victims are survivors, and survivors are going to be doing a hell of a lot more than surviving.
Jesse Williams making an eloquent statement on what it means to be black in America at the BET Awards
Yesterday would have been young Tamir Rice's 14th birthday. So I don't want to hear any more about how far we've come when paid public servants can pull a drive-by on a 12-year-old playing alone in a park in broad daylight, killing him on television and going home to make a sandwich.