Christmas playlist 2016: 12 modern songs to give a fresh spin on your holiday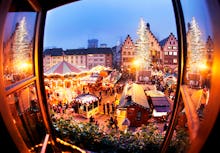 How many people are actually going to dash through in a one-horse open sleigh this holiday? How many people know what a bobtail is and how to properly attach bells to it? The answer is likely not many.
The season's holiday classics will never die. They'll likely always bring us back into those warm, nostalgic childhood memories, where we sat cozy trying to figure out what a chestnut or a sugar plum might taste like. Sometimes it's good to mix it up and listen to songs with Christmas imagery which appeals to our modern, grown sensibilities: like gun-wielding, gritty Santa reboot in the Killer's "Don't Shoot Me Santa," or Trump's nuts roasting over an open fire, as Fiona Apple recently offered in song.
To help stave off the coming madness, when department store holiday changes from cheerful to excruciating, we've put together a list of some modern, likely soon-to-be holiday classics. Listen to the full playlist below and read some more about a few of the songs below.
The Killers ft. Toni Halliday, "A Great Big Sled"
In the same way OK GO has largely become known as the band that makes the cool music videos, The Killers have made a reputation for themselves as the band that makes a Christmas song every year. 
In November, they collected them all onto an album, Don't Waste Your Wishes. They've cut some good ones over the years — "The Cowboy's Christmas Ball" and "Joseph, Better You Than Me" are also stellar — none have surpassed their first, "A Great Big Sled" and the sardonic, postmodern vision of Christmas it presents.
Sufjan Stevens, "Christmas In The Room"
Another name with an extensive Christmas canon, Sufjan Stevens' "Christmas In the Room" is one of his finest. Like most of his music, it's quiet, stately and emotionally resonant, offering a loved one an earnest Christmas well wish. 
Because one of a music journalist's main jobs is to start beef and create feuds where there's only tentative grounds to do so, the song seems to contain a subtle knock on the Christmas classic "Silent Night," as Sufjan makes the case for his Christmas song being far superior: "Oh, I can't see the day when we'll die," he sings. "But I don't care to think of silence/ For now I hear you laughing/ The greatest joy is like the sunrise." Put some snow on that burn.
Kanye West, ft. Teyana Taylor, Cyhi the Prynce "Christmas in Harlem"
One of the most memorable releases from West's, G.O.O.D. Friday series, "Christmas in Harlem" is about as raw as Xmas songs get. West names himself "Bad Santa" and tells an explicit story about having a Christmas lay with his baby once the kids are asleep. It's a perfect example of the sneering, plainspoken holiday tale few rappers could tell better than West.
Sharon Jones & the Dap-Kings, "Ain't No Chimneys in the Projects"
The last official, original release from Sharon Jones & the Dap-Kings before their leader's death in November happens to be a Christmas album, It's a Holiday Soul Party. There are several heartwarming cuts, but few make for a more clever listen than "Ain't Christmas in the Projects." 
Jones narrates the story from her younger days asking her mother how Santa will deliver presents to kids in the projects if there are no chimneys. Her mother is quick on her feet with an answer: "Baby, Santa Claus does magic things/ As soon as you're asleep a chimney will appear/ And in the morning you will see all he brings." 
Phoenix, "Alone on Christmas Day"
To help promote for Bill Murray's 2015 Netflix Christmas special, A Very Murray Christmas, Phoenix recorded a cover of a long lost Beach Boys Christmas tune, "Alone on Christmas Day." It features contributions from Jason Schwartzman, David Letterman's former bandleader Paul Shaffer and New York Dolls' singer David Johansen, credited with his pseudonym Buster Poindexter and offers the perfect sweetly somber centerpiece for the very odd Christmas hit.
Julian Casablancas, "I Wish It Was Christmas Today"
A hybrid of Julian Casablancas' signature Strokes garage rock and all the standard Christmas music trappings — sleigh bells, church bells, chipper chord progressions — "I Wish It Was Christmas Day" is an excellent addition to spice any bland holiday playlist. The song was originally a Saturday Night Live staple, debuting in 2000 and played during the Christmas celebrations. When Casablancas got his hands on it, it became something far more than an novelty inside Christmas joke between the SNL cast and its audience. It's now a classic for a new era of Christmas celebrations.