'Moana' Easter Eggs: 9 Disney Connections You May Have Missed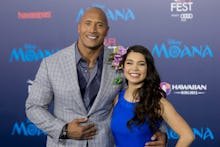 Take a look at recent box office numbers and you'll see Disney's got another big animated hit on their hands. After two weeks in theaters, Moana has topped the domestic box office twice and grossed over $184 million worldwide. 
This should come at little surprise as Disney Animation has been on a hot streak recently. Creative original storytelling, beautiful imagery and strong relatable characters have given the studio hits like Wreck-It Ralph, Frozen, Zootopia and Big Hero 6. 
Another common thing you'll find in all of those? Deep references and inside jokes for the fans. Frozen included nods to Tangled and Wreck-It Ralph. Zootopia referenced Moana, and even Gigantic and Frozen 2, which aren't even out yet. Keeping with tradition, Moana is packed with easter eggs to other Disney movies, as well as David Bowie and even Mad Max: Fury Road. 
The Little Mermaid 
Moana was directed by Ron Clements and John Musker, whose past Disney credits include The Princess and the Frog, Hercules, Aladdin and The Little Mermaid. As YouTuber Flicks and the City points out, Moana is like Little Mermaid in reverse. Moana wants to leave the land (and her father) for the sea, while Ariel hopes to leave the sea (and her father) for the land. Moana's locket and the Heart of Tafiti within it also resemble the necklace Ursula wears in The Little Mermaid.
Moana includes two other direct references to The Little Mermaid. According to Entertainment Weekly, Ariel's fish friend Flounder appears in the "You're Welcome" sequence. Over the bridge of the song, Maui brings Moana into a 2D world. A school of fish swim by and Flounder can be seen as one of those fish. 
Those that stayed for the end credits sequence of Moana also heard a reference to Little Mermaid's Sebastian the Crab. In the scene, Tomatoa, Moana's giant evil crab, is still stuck upside down. He asks for help and then laments that people would be more sympathetic toward him if he had a cool Jamaican accent. 
Frozen
Moana contains two nods to Disney Animation mega hit Frozen. During the initial Tamatoa scene, Maui attempts to use his fish hook to transform into a giant hawk. He cycles through a number of animal transformations, and according to Flicks and the City, one of them is Kristof's reindeer Sven from Frozen. 
But that's not all. Entertainment Weekly revealed that Elsa's monster snowman Marshmallow appears on a tapestry early on in Moana.
David Bowie
It's not all Disney references though. Moana pays homage to the late David Bowie in a very obvious way. Tamatoa's song "Shiny," written by Hamilton's Lin-Manuel Miranda is in the style of Bowie. In a video interview for People, Miranda explained how Jermaine Clement's casting inspired him to write "Shiny." Clement paid tribute to Bowie on his HBO TV series Flight of the Conchords.
"As soon as they said Jermaine Clement I got really excited," Miranda told People. "I've known of Jermaine's gifts even before the TV show. [Flight of the Conchord's] Bowie tribute, which they did back at the Aspen Comedy Festival was so brilliant, I said 'Oh, I'm writing that.' The world had already been mourning Bowie, I'd been listening to Bowie on a loop. I was like, well I'm writing a glam rock tune for this crab, this jewel-encrusted crab."
Big Hero 6 and Mad Max: Fury Road
In one of the movie's biggest action sequences, Moana and Maui face off against an army of seafaring sentient coconuts known as the Kakamora. Musker and Clements confirmed to SBS that the scene was a tribute to Mad Max: Fury Road.
"That was a little Fury Road ... That was our little homage to George Miller and what he did with that movie," Musker told the Australian outlet, "but with coconuts."
Musker and Clements also confirmed to Entertainment Weekly that the Kakamora battle includes a reference to Baymax from Big Hero 6. One of the coconuts in a very busy wide shot has Baymax's face. (You can find it in the right side in the image below).
Wreck-It Ralph
Like the joke about Sebastian, you'll only see Moana's tribute to Wreck-It Ralph if you stay through the credits. Toward the end of the crawl a tapestry appears on the right side screen with an image of Ralph. The sequel to Wreck-It Ralph 2 hits theaters in 2018.
Let us know if there are any Moana easter eggs that we missed! 
Mic has ongoing coverage of Moana. Please follow our main Moana hub.