Ohio "Heartbeat Bill" co-sponsor admitted he hadn't given the abortion thing much thought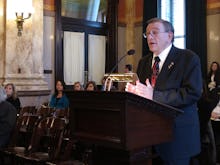 There's no reason any politician should be legislating what a woman can and can't do with her own body. In 2012, Republican State Rep. Jim Buchy, a supporter of the latest anti-abortion legislation coming out of Ohio, made that even more abundantly clear in an interview with Al Jazeera.
At the time, Buchy was the co-sponsor on a bill to dramatically shorten the window of time in which someone is allowed to terminate their pregnancy. In the interview, he tells the Al Jazeera reporter his ultimate goal is a near-total ban on abortion.
Pressing him on this extreme stance, the reporter asks, "What do you think makes a woman want to have an abortion?"
Buchy is at a loss.
"Well, there's probably a lot of..." he starts, before breaking into laughter. "I'm not a woman. I'm thinking now if I'm a woman, why would I want to get... Some of it has to do with economics. A lot of it has to do with economics."
He continued, "I don't know. It's a question I've never even thought about."
The "Heartbeat Bill," which passed through the Ohio state senate on Tuesday, would just about achieve Buchy's goal of ending abortion completely. He is among the bill's nearly 50 co-sponsors. 
The extreme piece of legislation would make it illegal to terminate a pregnancy following the first detectable heartbeat, which usually occurs around the six-week mark. At this point in time, many people may not even know they're pregnant, as the cut-off date would arrive just two weeks after the first missed period. Now that the bill has passed through Ohio's house and senate, Gov. John Kasich has 10 days to either veto the bill or sign it into law. 
Buchy is certainly not alone in his ignorance of what an abortion entails. In October's final presidential debate, Donald Trump dove into a graphic and factually incorrect description of an abortion procedure, stating, "In the ninth month, you can take the baby and rip the baby out of the womb of the mother just prior to the birth of the baby."
Trump also stated his intentions to appoint Supreme Court justices who would overturn 1973 landmark Supreme Court ruling Roe v. Wade, a move which would mark the end of legal abortions in the United States. 
With the "Heartbeat Bill," Ohio would be one step closer to achieving that end game.
See the interview, excerpted on the Rachel Maddow Show, below: