'Manchester by the Sea' Reviews: Critics love this major Oscar contender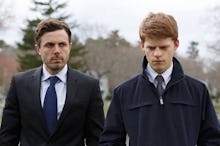 We're almost through with 2016, and as the year comes to a close we are one step closer to learning which films and performers will be nominated and honored at the 89th Academy Awards. We've already broken down our Oscar hopefuls, and Manchester by the Sea, which first premiered at Sundance last January, has managed to endure the year, and has also perhaps solidified itself as a locked contender. 
Critics have been raving about Manchester by the Sea since Sundance, and the movie, about a troubled man who's entrusted to raise his nephew after his brother dies, currently has a 97% on Rotten Tomatoes (out of 145 reviews). 
Reviews
Check out what some top critics have been saying.
Ann Hornaday, Washington Post
Like a carefully wrought piece of origami, 'Manchester by the Sea' unfolds slowly and delicately to reveal its inner workings, building over time into one of the most powerful emotional experiences filmgoers will have this year. 
Matt Zoller Seitz, Rogerebert.com
'Manchester by the Sea,' about a self-punishing, depressive loner (Casey Affleck) who slowly comes back to life after enduring a series of brutal losses, is the funniest movie about grief ever made. But that's far from the only remarkable thing about it. This film by playwright turned filmmaker Kenneth Lonergan contains multitudes of emotions, people and ideas, in such abundance that if you ask somebody to describe it, you should probably take a seat first. 
Kenneth Turan, Los Angeles Times
At its core a story about the vulnerability and necessity of family, about the pain it can put us through and what helps us bear that, 'Manchester' benefits from Lonergan's multiple gifts, by having a director with complete understanding of his own material and the confidence to allow it to take its time building and playing out.
April Wolfe, The Village Voice
What Lonergan proves with 'Manchester by the Sea' is that no basic premise must be original to make an excellent film. All you need is honesty and an understanding that real life ain't like the movies. Well, not most of them.
A.O. Scott, The New York Times
'Manchester by the Sea' is a finely shaded portrait, a study in individual misery set in a place that is observed with care and affection.
More info
Last week, Manchester by the Sea won the National Board of Review award for best film, lead actor — Casey Affleck stars as the film's tragic protagonist — and for Lonergan's original screenplay. In previous years, films like Mad Max: Fury Road, Her and Zero Dark Thirty — films that all garnered Best Picture Oscar nominations — won the NBR award for best film. 
Manchester by the Sea had a limited release on Nov. 18. It then expanded to theaters Thanksgiving weekend. Deadline reports, "More theaters will be added in the following weeks before going to about 800 – 900 theaters in mid-December." Moviephone shows the film playing in more theaters on Friday, Dec. 16.
Manchester by the Sea stars Casey Affleck, Michelle Williams, Kyle Chandler and Lucas Hedges. Playwright Kenneth Lonergan, who directed films such as You Can Count on Me and Margaret writes and directs.