Where does 'Rogue One' fit in the 'Star Wars' timeline?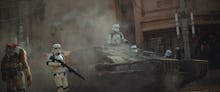 Star Wars has had some fun with its timeline since long before HBO's Westworld made it a thing. A New Hope is the first film by release date, but takes place decades after The Phantom Menace, the fourth entry in the franchise. All the Star Wars trilogies — The Force Awakens is the first of an entirely new one — bouncing through different time periods may be understandably confusing to the casual Star Wars fan. 
So where exactly does Rogue One: A Star Wars Story play into this? It's the first of three planned anthology films, which puts it as a separate entity from every other film. Thankfully, with Rogue One, it's very easy to place it in the Star Wars timeline. 
The movie's premise is taken from a sentence in the opening crawl of A New Hope, which vaguely describes a group of Rebels stealing the plans to the Death Star from the Empire. By the time A New Hope starts, the rebels and Princess Leia have the plans and are being pursued by a Star Destroyer in which Darth Vader's at the helm. 
Rogue One is essentially setting the stage for that opening sequence — and some rumors have suggested that it could actually end just before that iconic scene. That makes it easy to place in Star Wars' general timeline: It's right before A New Hope, but takes place several years after the events of Revenge of the Sith.
Considering the forthcoming Episode VIII will then take place after The Force Awakens, but Rogue One is squeezed in the middle of the release schedule for the corresponding films in the new trilogy, casual fans may also be confused by the titles. No, Rogue One isn't Episode VIII, which doesn't have an official title yet. Episode VIII is still about a year away. 
Here's where all the Star Wars films — including Rogue One — fit in the overall timeline:
• The Phantom Menace
• Attack of the Clones
• Revenge of the Sith
• Rogue One: A Star Wars Story
• A New Hope
• The Empire Strikes Back
• Return of the Jedi
• The Force Awakens
• Episode VIII (still untitled, and scheduled for a Dec. 15, 2017 release)
• Episode IX (still untitled, and scheduled for a 2019 release)
Rogue One arrives in U.S. theaters Dec. 16. Watch the latest trailer below: 
Mic has ongoing Star Wars coverage. You can follow our main Star Wars hub here.