Thousands of oil spills are devastating the Gulf Coast — and no one seems to care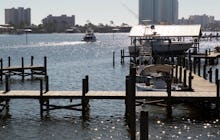 The Gulf Coast is being devastated, and there's no end in sight for the massive problem.
That's the takeaway from a new investigative report released Friday by Wired, which sheds light on the tens of thousands of oil spills each year that oil companies underreport and misrepresent as smaller than they actually are.
The Wired report highlights Taylor Energy, which owns more than two dozen undersea oil wells damaged by Hurricane Ivan in 2004. Those wells, Wired writer Emma Gray Ellis reports, have been slowly leaking for the past 12 years — and they may keep leaking for the next century.
And while those leaks continue, Taylor Energy, which went bankrupt and sold off all its all oil assets in 2008, is currently suing the federal government.
But its leak site, which "reliably leaks between 84 and 1,470 gallons per day," is actually a higher-profile example of the less visible oil spills that are devastating the Gulf Coast.
Ellis notes that there are tens of thousands of "small spills" each year caused by human error, aging pipelines or abandoned wells, and there may be even smaller spills that go undetected. But the numbers of small spills add up to major consequences.
A 2016 study by the U.S. Geological Survey and NASA found that fallout from the 2010 BP Deepwater Horizon oil spill continues to cause "dramatic, widespread shoreline loss along Louisiana's coast." The oil in the water is literally destroying the land along coast.
And, considering President-elect Donald Trump's choice of Scott Pruitt as EPA head, a man who, as the New York Times put it, "has sought to use legal tools to fight environmental regulations on the oil and gas companies" — there may not be much hope in sight for putting a stop to the leaks.