Nintendo Switch Games: Mario rumors confirmed? Nintendo is definitely teasing something.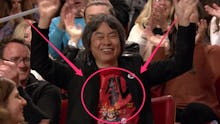 Nintendo teased a new Mario game in the trailer that revealed the Nintendo Switch, but some fans are speculating Shigeru Miyamoto — the creator of Mario, Zelda and Donkey Kong — used a snazzy T-shirt he wore on The Tonight Show Starring Jimmy Fallon as a way to tease some additional details.
Nintendo Switch games: Mario rumors teased by Miyamoto's T-shirt
Here's the shirt Miyamoto wore while Nintendo of America president Reggie Fils-Aimé stood on stage with Fallon:
It appears to show Mario dressed in Samurai-inspired armor, which led Reddit user T-RavStl to post a thread in which he speculates it could be a tease for Mario's next adventure. Throughout the series, Mario uses different hats to transform and gain different abilities. So a Samurai helmet might be one of the new game's items.
The Samurai helmet, combined with the seemingly Mexican or South American setting teased in the Nintendo Switch trailer, led Reddit user MightyArtio to wonder if the new Mario game would be a world tour of sorts.
"I think someone mentioned it weeks ago, the idea of Mario wearing cultural hats (Sombrero, Samurai helmet, etc.) and I think it's a really cool idea," they wrote. "I hope you're on to something and I hope it's a hint at like Super Mario World Tour or something where Mario goes to different kingdoms, each based on a different real world culture with a unique cultural power up like the Samurai Mario on Miyamoto's shirt."
Nintendo Switch games: Mario teaser gains traction
For those of you inclined to think this is some crackpot theory, Nintendo has been stoking the fire, too. Bill Trinen, Nintendo of America's director of product marketing — who you can see sitting on Miyamoto's right in the picture above — has been teasing the shirt's meaning through his recent tweets.
"Has anyone figured out what's up with Miyamoto's Samurai Mario shirt?" one tweet said.
"Cause I know what's up," said a follow-up tweet.
Trinen also responded to someone else's tweet that the kanji on Miyamoto's shirt sounds like "run" in English when said aloud — a possible reference to Super Mario Run.
"First layer of the punion," Trinen said, fueling speculation that the shirt could also be teasing details on the next Mario game.
Nintendo is hosting an event in New York City on Jan. 13 where it's expected to reveal more information on the Switch. So, hopefully, we'll learn about this mysterious Mario game, too. At the very least, maybe Miyamoto will be wearing another equally cryptic shirt for fans to dissect.
More Nintendo news and updates:
For more on Nintendo, check out Mic's analysis of Nintendo's announcement that Super Mario Run will require an online connection, hands-on first impressions of Super Mario Run, screenshots of a recently revealed Nintendo Switch exclusive game and speculation on the Switch's rumored backward compatibility.