California Weed Delivery: Here are 4 of the most popular sites people are using to buy pot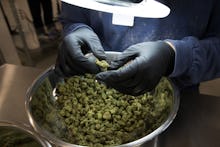 California voted to legalize the recreational use of marijuana on Nov. 8. Residents 21 and over are clamoring for an opportunity to legally purchase the drug, but they'll have to wait — the state won't start issuing recreational dispensary licenses until Jan. 1, 2018. There is a workaround, however: You can become a medical marijuana patient. And if you do, you'll be able to buy weed online and have it delivered to your door.
Here are four of the most popular sites people are using to buy pot in California:
Kushfly offers "instant" delivery throughout Los Angeles and its surrounding areas, and will overnight purchases anywhere in California for no additional cost. The service offers a range of cannabis products, from oils to edibles and, of course, traditional flower buds. 
Tops delivers throughout Los Angeles, Orange and San Bernardino counties. Complete an online application with your medical marijuana credentials and you're all set to go. Indica, sativa and hybrid strains are all available for purchase.
Residents around the Los Angeles area have access to this dispensary, which offers premium organic and vegan edible delivery. Upon verification of your doctor's recommendation, you can browse through collections of flower buds, pre-rolled joints and a variety of edibles. Once your order is out for delivery you can track the driver's progress on an interactive map.
Northern Californians will want to check out the Green Cross, which operates in and around the San Francisco area. The usual suspects are available: buds, pre-rolls, concentrates and edibles. Just make sure you have cash — cards aren't accepted.