No, Hillary Clinton did not get more votes than any candidate ever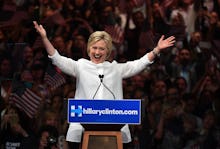 Mic's Other Facebook series looks at how the fake news you probably never see goes viral: the CEOs who pretend it's not an issue, the influencers who share it and the real-life consequences of a news cycle filled with misinformation. Today's entry: the irresistible (but false) story of Hillary Clinton winning more popular votes than any other candidate. 
For anyone brokenhearted over the election results, it's an irresistible story. The milestone is a stunning achievement for Clinton. It's also additional fodder for a popular narrative among liberals: Clinton was not only America's preferred candidate — she smashed modern voting records.
The only problem? It's false. 
Hillary Clinton's tally of about 65.5 million votes is far short of Obama's 2008 intake of over 69 million votes. She's close to Obama's 2012 count of 65.9 million, according to the Federal Election Commission, but as of Friday, Clinton has decisively not gotten more votes than any candidate ever.
Many people associate the fake news epidemic with ultra-conservative websites, branded with shoddy design and names like Truth Eagle Report, which vomit out obvious hoaxes about Obama's allegiance to ISIS and the like. But this incident provides a bizarre look at the way more reputable websites can unwittingly participate in disseminating inaccurate news on either side of the aisle.
So where did the false story come from?
The Yahoo piece that went viral happens to be a syndication of an International Business Times news story. On Thursday at 10 a.m., an IBT reporter covered Cook Political Report's electoral tracker showing Clinton's popular-vote count had reached 65.5 million. IBT published the article with the headline "Hillary Clinton Gets More Votes Than Any Candidate Ever," and the line, "Former Secretary of State Hillary Clinton has garnered at least 65,527,625 votes in the 2016 presidential election, the most any presidential candidate has ever received," with no evidence to back up the claim. The factoid fit into the narrative of Clinton's growing popular vote count and historic margin of victory while still losing the electoral college. 
Minutes after the story went up, the story was amended, an IBT employee told Mic. The first paragraphs now reflect Obama's 2008 vote count. The headline changed, too: "Latest 2016 Popular Vote Election Results: Clinton Leads Trump by 2.6 Million, Margin Grows as Votes Continue to Be Counted." 
IBT did not issue a correction or note the update, however, until Mic reached out Friday afternoon. 
"This was an honest mistake," said IBT editor-in-chief Dayan Candappa in an email at 10 p.m. Friday. "The corrected version should have included a note about the error, in line with our policy. Unfortunately, it did not, but we have now rectified that too."
Before the mistake was fixed, however, Yahoo's automated syndication system republished the piece in its original. 
The effect was immediate: After the story was published on Yahoo, it was tweeted by actors George Takei and John Wesley Shipp, posted on Facebook by Perez Hilton, then picked up by left-leaning politics and culture website The Grio. Yahoo's story — which proved far more popular than the version on IBT — retained the erroneous assertion that Hillary Clinton has won more total votes than anyone in presidential election history.
Takei's tweet has been retweeted over 3,000 times, and the inaccurate Yahoo article attracted almost 3,000 comments before it was deleted, most of them taking the article's assertion at face value.
After Mic reached out to the International Business Times Friday morning, a representative notified Yahoo, and an editor there deleted the story wholesale from the site.
Automatic syndication perpetuated a viral hoax
According to a former homepage editor for Yahoo, many news publishers have syndication agreements with the publisher wherein either all or a portion of their content gets sucked into Yahoo and published as standalone articles. The agreements provide Yahoo with stories for their enormous audience, and give additional eyeballs and publicity to smaller news outlets. (Disclosures: I worked for Yahoo from 2013 to 2015. Mic has previously syndicated with Yahoo.)
When a story is syndicated to Yahoo, according to the former homepage editor, any changes to the article made after publication will not necessarily make it to the Yahoo version. This is based on how the feed has been set up by the engineers at both Yahoo and the publisher, and is done on an ad hoc basis. Obviously, the IBT feed had not been set to ingest updates.
"Some stories that appear on Yahoo come to the site through various partnerships and sources around the web," a Yahoo spokesperson said in an emailed comment. "This particular story was published to Yahoo from the International Business Times, and was immediately removed because it didn't adhere to our editorial standards."
And so, errors both human and automated caused a false partisan claim to get sucked into the popular consciousness after being spread through syndication deals and the outsized influence of George Takei's social media goblins.
You'd like to think that fake news could simply be zapped by a clever Facebook algorithm that blocks out third-rate, conspiracy-peddling content farms. But sometimes, the misinformation is coming from inside the house.