Obamacare Pennsylvania: Premiums, cost, enrollment and deadlines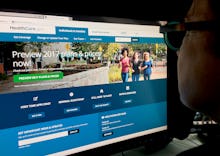 Donald Trump has pledged to repeal the Affordable Care Act when he takes office in January. But any changes will take a while to implement, and there is no risk of one's policy being canceled in 2017 once you have enrolled, according to Consumer Reports. More than 1 million Americans signed up for coverage under the ACA within two weeks of open enrollment — 53,000 more than the same period the previous year, CNN Money reported. According to the Philadelphia Inquirer, by the end of November, more than 2 million had registered, including over 100,000 in Pennsylvania.
Here is what to know before you enroll in Pennsylvania:
Enrollment dates
Open enrollment began on Nov. 1 and continues through Jan. 31. You may qualify for a Special Enrollment Period after that date under certain circumstances, which, according to Healthcare.gov, includes"losing health coverage, moving, getting married, having a baby or adopting a child." 
For insurance coverage beginning Jan. 1, you must sign up by Dec. 15.
Premiums
ACA premiums for individual plans in Pennsylvania have climbed by an average of 33% and small group plans by 7.1%, according to PennLive, citing 2017 rates. That's one of the highest premium hikes of any state in the country.
Four insurance carriers have left the market in the state. But, with subsidies, most Pennsylvanians will be able to pay less than $75 per month for a plan, a federal spokesperson told PennLive.
How to enroll
Health care plans can be found at HealthCare.gov.