Viral video of homeless woman claiming she lives in Trump Tower rent-free is fake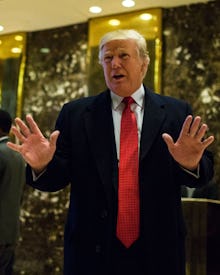 A viral video dominated social media this week, featuring a homeless woman claiming President-elect Donald Trump allowed her to live rent-free in Trump Tower for either eight or nine years. But on Friday, a Trump Hotels spokesperson confirmed to BuzzFeed News that the Good Samaritan story — which was also widely circulated on fake news outlets like Infowars.com and Libertywritersnews.com — is a sham.
The unidentified woman claimed she snuck into the building and was squatting in an empty room there until a housekeeper discovered her. She said the housekeeper called the manager who then contacted the NYPD, who told her they would have to arrest her if she didn't leave. 
"When I told them I wouldn't go, they contacted Mr. Trump over the phone and he came down here," the woman says in the video. "Instead of him evicting me off the property he said I can stay and it's been eight years I've been here." 
The woman said in addition to letting her live in Trump Tower for free, Trump made sure the building's staff sent her three meals a day via "room service" and a "delivery of fresh flowers every week." The woman insisted the alleged good deed was a testament to Trump's character.
"If it weren't for him I'd be homeless; I'd be dead right now," she said. "I'd be in the street ... Donald Trump is not a bad guy. He's a wonderful, wonderful man and everything I'm telling you today is true." 
Not so. 
"There is no validity to the video," Jennifer Rodstrom told BuzzFeed News. "The woman depicted is not our guest."
It isn't too difficult to poke holes in the woman's account.
In the video, she claims her view overlooks Central Park, stating the building is located near 59th Street. As BuzzFeed News points out, Trump Tower is E. 56th Street and Fifth Avenue, around two blocks from the park. There's no "hotel" in the tower, only condominiums, which means the "room service" the woman spoke of doesn't exist. 
Additionally, BuzzFeed News reached out to multiple Trump Tower tenets and hotel guests, all of whom said they had never seen or heard of the woman in the video. 
Nonetheless, many people were eager to accept the story as true to. When Twitter user @PrisonPlanet shared the video in a tweet that accumulated over 8,000 likes and 6,000 retweets, he wrote, "Racist bigot? Hardly."