According to secret CIA assessment, Russia interfered with the election for Trump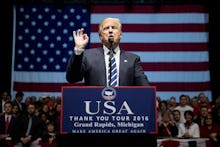 According to the Washington Post, a secret CIA assessment found Russia made efforts to sway the 2016 presidential election in Donald Trump's favor.
In a "closed-door briefing" detailed by the Post, agency officials told senators Russia aimed to put Trump in the White House. According to the agency, individuals with connections to Russia provided WikiLeaks with thousands of hacked Democratic National Committee emails that likely caused Democratic presidential candidate Hillary Clinton's poll numbers to dip in the weeks leading up to Election Day. 
An unnamed U.S. official who spoke to the Post said that the intelligence leaks were part of a deliberate attempt to hurt Clinton in the polls. 
"It is the assessment of the intelligence community that Russia's goal here was to favor one candidate over the other, to help Trump get elected," the official said. "That's the consensus view."
Trump dismissed claims that Russia has had any influence on the election results as recently as this week.
"I don't believe they interfered," he told Time magazine. "[It] could be Russia. And it could be China. And it could be some guy in his home in New Jersey."
Julian Assange, the founder of WikiLeaks, has also denied that his organization supplied Russia with information.
A senior CIA official told the Post that although the leaks could not be definitively linked to the Kremlin, the actors responsible for the leaks were "one step" removed from the government itself.
This is a breaking news story. We will update as more information becomes available.