What to expect from Donald Trump's Thursday press conference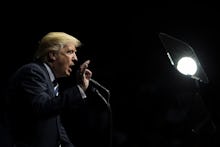 President-elect Donald Trump is set to make an announcement on Thursday, Dec. 15, regarding claims of conflicts of interest between him and the companies that bear his name.
In November, Trump laid out a series of tweets announcing his intention to dispel any notion that his business holdings would benefit from his role as president or otherwise conflict with his decision making. Trump announced that legal documents had been drawn up that would put the idea to rest. He also said that on Dec. 15 he would hold a press conference detailing the plans publicly, though whether he will answer questions from the press remains to be seen.
The president-elect will have a lot to address when he speaks at his press conference on Thursday. Here's what we can expect to see him talk about.
Conflict of interest charges
Trump is technically right when he says he doesn't have to do anything about his conflicts of interest. There isn't any law that requires Trump to keep his business dealings out of his sight while he's president.
But presidents have typically set up blind trusts with their investments to ensure that they are being managed in a way that removes them from their assets. They also sometimes liquidate their assets entirely before assuming office, selling properties or investments and putting all of their profits into a portfolio that only the manager of their trust can see.
It's difficult to imagine for some that Trump would be willing to go that route, completely dismantling his real estate empire and other assets and placing the proceeds into a blind trust without any input from him or his family.
Children in charge of "blind trust"
Donald Trump has suggested that his blind trust wouldn't be run by a stranger — he would have his children run his business dealings while he's president instead.
That arrangement wouldn't by definition be a real blind trust, especially given that Trump seems to want his children by his side when he speaks to foreign dignitaries. Having them manage his trust while possibly taking part in White House operations wouldn't alleviate concerns about conflicts of interest, according to experts. 
"The president can't have a conflict of interest" and Democratic response
Trump himself has raised some concerns about his potential conflicts of interest while meeting with reporters at the New York Times in November. Trump suggested that his plans didn't warrant that much scrutiny because, after all, "the president can't have a conflict of interest."
That sentiment set off alarm bells in many people's minds, including Democratic lawmakers who are now seeking to begin hearings into the matter. 
"Mr. Trump's unprecedented secrecy and his extensive business dealings in foreign countries raise serious questions about how he intends to avoid conflicts of interest as president," Rep. Elijah Cummings wrote to GOP Oversight Committee Chair Rep. Jason Chaffetz. Democrats are seeking "a review of President-elect Donald Trump's financial arrangements to ensure that he does not have any actual or perceived conflicts of interest," he added.
Whether Trump responds directly or not to this inquiry will be seen on Thursday — or earlier, if he's got his Twitter account ready.