Cherokee Nation paves way for same-sex marriage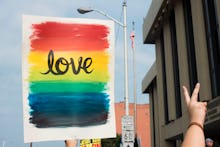 Love wins again. 
Cherokee Nation attorney general Todd Hembree issued an opinion on Friday that same-sex marriages will be recognized by the sovereign nation, the Tulsa World reports. 
In the attorney general's 12-page opinion, he cites a history of same-sex unions among Cherokee people as precedent. He says that in writings about Cherokee, ceremonies were described that "bonded two people of the same sex together for life," in a "parallel to modern day same-sex marriage." 
The attorney general's decision nullifies Cherokee legislation enacted in 2004 that described marriage as between one man and one woman. The law was enacted when two women, Dawn McKinley and Kathy Reynolds, obtained a marriage license. The attorney general at the time, Diane Hammons, issued an opinion calling the license invalid. 
"A lot of time has passed since then," Chrissi Nimmo, an assistant attorney general for the Cherokee Nation, told Tulsa World. "And a lot of social changes have happened."
According to Cherokee law, the attorney general's opinion is equal to passed legislation — which also means it is open to court challenge. The opinion will take effect immediately. 
"It was a question that officials were going to be facing more and more often," Nimmo told Tulsa World, "and it had to be addressed one way or another."
McKinley and Reynolds were "overwhelmed" by the news when Tulsa World reached them for comment. 
"We didn't expect his opinion to go this way at all," Dawn McKinley-Reynolds said.
Carden Crow, a Cherokee citizen who helped organize the first LGBT pride parade in the Cherokee capital, Tahlequah, said this is a "step in the right direction" and hopes that same-sex adoption rights will follow.