BBC Music Awards livestream: How to watch the British awards online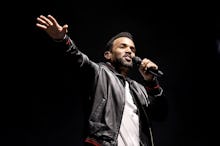 On Monday, the 2016 BBC Music Awards are set to take place. The show will be put on at the ExCel London, an exhibition hall just off of the River Thames, and will broadcast from 8:30 p.m. to 10:00 p.m. Western European Time (3:30 p.m. to 5:00 p.m. Eastern Time in the United States).
The ceremony, which is in its third year of existence, is expected to be an entertaining one and will include "spectacular performances and surprising collaborations from some of the biggest names in the business," according to the official BBC website. Performers include Craig David, John Legend, Lukas Graham, Zara Larsson and many others.
How can you see the show for yourself? You have a few options at your disposal. The show will be broadcast on Britain's flagship station BBC One live. But if you're someone who isn't able to watch BBC One, there are plenty of other options.
Stream it online
The BBC is offering a livestream of the show on their website. However, the livestream will not be available for audiences outside the U.K. BBC Music, which ordinarily provides previews of the top hits in the UK, will broadcast the show live while it happens. 
Listen live
Maybe you don't care whether you watch the performances or just listen to them. That's OK: You don't need to stream the video feed, because BBC is also offering three different programs to listen to online.
BBC Radio One host Greg James and Alice Levine will begin broadcasting at 6:00 p.m. London time, reporting on the various stars' arrivals and continuing into the show itself. 
Want to start out even earlier?  BBC Radio Two coverage will begin at 4:00 p.m. local time (11:00 a.m. in New York) while host Steve Wright speaks with special guests of the event. 
And if you want to hear about what's going on backstage during the performances, you can keep listening to Radio Two with host Jo Whiley, who will be giving listeners the inside scoop about the events the cameras don't see.
Watch it on BBC America two days later
If you have a cable subscription that includes BBC America, you can watch the show there as well. The catch? It won't be broadcast live. BBC America will replay the show on Wednesday, Dec. 14, at 10:00 p.m. Eastern Time.