Firefighter charged for setting own house on fire after framing Black Lives Matter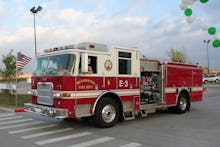 Black Lives Matter has a lengthy agenda for how to change America's racial landscape — and setting fire to homes is not a part of it. 
Though he pleaded not guilty earlier in the week, New York state firefighter Jason Stokes, 41, was charged with arson on Thursday, WBNG reports. After the fire in August, family members believed their home was targeted because a "Blue Lives Matter" flag flew outside. They found a message reading "lie with pigs, fry like bacon" near the house at the time of the fire.
However, Broome County District Attorney Steve Cornwell said he believes Stokes scrawled the message to cover up his own crime. In a press conference, Cromwell said Stokes constructed a kind of "obstacle course" of gas cans inside his own home. He set the fire while his wife and two children were inside. They escaped. 
"Arson cases ... contain a lot of evidence," Cornwell said in the press conference. "Obviously, it's beyond disappointing when members of the public service sector don't follow through with their promise."
Stokes isn't the first to commit a crime and blame it on Black Lives Matter. In October, a police officer's wife vandalized her own family's home and spray-painted "BLM" on the house to point suspicions toward activists with the group. 
Stokes faces a felony count of second-degree arson. If convicted, he may spend up to 25 years in prison.