How long will the 2016 BBC Music Awards be on?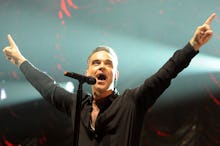 The 2016 BBC Music Awards are set to commence Monday, Dec. 12. In just its third year of existence, the awards show in London is promising to provide viewers with "spectacular performances and surprising collaborations from some of the biggest names in the business." 
Performances and awards
It seems like they will deliver: Performers will include John Legend, Robbie Williams, Zara Larsson, Craig David and Lukas Graham, among many others. 
Performances will likely take up a majority of the show's time, as the BBC Music Awards only have five categories (to compare, the American Music Awards had 28 categories). The categories include:
- Radio 2's Album of the Year
- Radio 1 Live Lounge Performance of the Year 
- Song of the Year
- BBC Music Introducing Artist of the Year 
- BBC Music British Artist of the Year
Delayed broadcast on BBC America 
If you have a cable subscription that includes the BBC America station, you can watch the BBC Music Awards on TV. But there is a small catch: They're broadcasting two days after the show airs live. Although the BBC is livestreaming the show, it won't be available for audiences outside the U.K. 
BBC America will show the BBC Music Awards on Wednesday, Dec. 14, at 9:00 p.m. Eastern Time.