Cathy McMorris Rodgers as interior secretary offers preview of Trump climate policy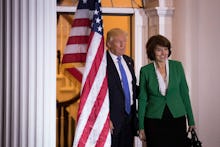 Republican President-elect Donald Trump is widely expected to appoint five-term GOP Rep. Cathy McMorris Rodgers of Washington to serve as secretary of the interior in his administration, delighting industry officials, the Wall Street Journal reported on Friday.
McMorris Rodgers is a conservative opponent of Barack Obama's climate and environmental policy, and among other things, supports expanding offshore and public-lands drilling, rolling back Interior Dept. fracking regulations, preventing the Environmental Protection Agency from regulating greenhouse gases and opposition to a theoretical "climate tax." She earned a "score of zero in 2015 from the League of Conservation Voters," the Los Angeles Times reported
The representative is also a climate change skeptic, expressing the (factually incorrect) viewpoint that "scientific reports are inconclusive at best on human culpability for global warming" in a 2012 interview.
The Department of the Interior manages 250 million acres of federally owned land; McMorris Rodgers' appointment seems intended to open up more of it for private use, whether it be cattle grazing, logging, mining or gas and oil extraction. One of her top priorities for the 70,000-employee, $12 billion department, which also regulates offshore drilling and federal parks, will be public lands energy development.
One early item on her task list, wrote the Journal, will likely be helping to revitalize U.S. coal production, one of Trump's promises on the campaign trail. The president-elect supports ending a moratorium on leasing out public lands for coal mining imposed in January, although "Coal mining companies have said they have enough land under lease now to last decades and there is little interest to lease more land given low coal prices."
McMorris Rodgers was additionally one of the female Republicans who did not retract their support for Trump following the release of a 2005 video tape featuring the then-candidate bragging about sexually assaulting women.
"Only Westerners of McMorris Rodger's caliber intrinsically understand federal lands issues and how best to balance conservation with productive uses of our vast working landscapes," Kathleen Sgamma, president of petroleum and natural resources lobbyist group Western Energy Alliance, told the Journal.
The Sierra Club's executive director Michael Brune was more scathing, telling the Times, "Selling off our public lands to the highest bidder and opening them to drilling, mining and logging is not in the best interest of our country, but that is exactly what Rep. McMorris Rodgers has voted to do over and over again."