Louisiana Senate Race Results 2016: Republican John Kennedy wins final Senate seat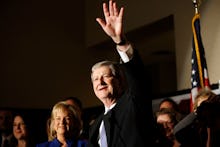 The 2016 United States Congressional races have now finally come to an end, as Louisiana Republican John Kennedy won out over Democrat Foster Campbell to claim the U.S. Senate seat vacated by retiring Sen. David Vitter. Republicans will now have a 52-48 majority in the Senate when it reconvenes in January.
In a speech to supporters, the Miami Herald reported, Kennedy railed against the "Washington insiders" who have moved the country in the wrong direction. "That's about to change, folks," Kennedy vowed.
A landslide election
State Treasurer Kennedy ultimately beat out Campbell, a state public service commissioner, with 60.66% of the vote in the Dec. 10 runoff election, Louisiana's secretary of state website reported. Due to Louisiana's voting laws, the Nov. 8 election allowed voters to vote for any one of 24 eligible candidates. If one candidate does not win a majority of votes in that election, a runoff vote takes place between the two candidates with the highest number of votes. 
Campbell conceded the election in a speech to supporters on Saturday, in which, the Miami Herald noted, he said that his campaign did everything "humanly possible" that it could. Campbell vowed: "I'll never stop fighting for working families, I'll never stop working for what's right."
In addition to Kennedy's win, two other Republicans were also elected to the U.S. House of Representatives on Dec. 10: Clay Higgins was elected over fellow Republican Scott A. Angele in the state's third Congressional district, and Mike Johnson won out in Louisiana's fourth district over Democrat Marshall Jones.
Foster Campbell: A long shot candidate
Winning the state's final Senate seat was always going to be an uphill battle for Campbell, in a red state that went for President-elect Donald Trump with 58% of the vote. Though Louisiana currently has a Democratic governor, John Bel Edwards, he is the only Democrat to currently hold statewide office, the Advocate noted, and Republicans have won 15 out of 17 statewide elections since 2008. A poll released on Dec. 5 by Tulane University showed Kennedy polling ahead of Campbell with 60% of the vote — an accurate measure of the actual election results.
Pensacola pollster Verne Kennedy emphasized how low Campbell's chances were to the Advocate, saying, "Based on earlier research I did, I don't see a clear way for a Democrat to win. I'm not saying it's impossible. But something earth-shaking would have to break."
Though Campbell was in support of traditional Democratic policies like equal pay for women, strengthening the Affordable Care Act and raising the minimum wage, the Democratic candidate also sought to reach across the aisle with his anti-abortion and pro-gun stances. Kennedy, a former Democrat who switched party affiliations in 2007, has been an open supporter of President-elect Trump and his policies, including building a wall on the Mexican border and repealing Obamacare, which he declared "sucks" in a campaign ad, the Advocate reports.
In the wake of Trump's election, however, Campbell earned support from beleaguered Democrats nationwide who saw the election as the country's final chance to beat back against Republicans' overwhelming victories on Nov. 8. 
Though Campbell did not receive very much support from the Democratic party, due to his low polling figures, the candidate ultimately raised more money in donations than Kennedy, thanks to grassroots support from Democrats and endorsements from such celebrities as Patton Oswalt, John Leguizamo and Rosie O'Donnell. Campaign finance reports released on Dec. 2 show that Campbell had raised $2.5 million between Oct. 20 and Nov. 20, compared with Kennedy's $1.6 million during the same period.
Kennedy, however, had the support of the Republican party behind him. The National Republican Senatorial Committee opened 10 field offices throughout the state in support of Kennedy's election, the Advocate reports, and both President-elect Trump and Vice President-elect Mike Pence flew to Louisiana to stump for Kennedy during the campaign.
In a rally on Friday night in Baton Rouge, Trump told supporters, "[Kennedy's] a great guy. He's a great guy. He's a good guy, No. 1, he's a good person. And if he doesn't win, I have got myself a problem in Washington because, you know, we have — it's pretty close. It's pretty close. We need John in Washington not only for the vote. We need him for leadership and everything else, but if you go there, we're going to win."
Pence appeared at a rally earlier in the month in New Orleans, telling supporters, "By electing John Kennedy your next senator, you're going to put an exclamation point at the end of a great American victory in 2016."