'ANTM' cycle 23 judges Drew Elliott and Law Roach dish about the VH1 reboot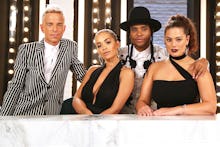 The first time Tyra Banks taught the girls how to smize.
That time she faked fainting in order to freak out the contestants. 
"Be quiet, Tiffany." 
So many unforgettable moments in America's Next Top Model history, packed into the original incarnation's 22 cycles. Now, with the reboot of America's Next Top Model debuting on VH1 on Monday night, we have a chance to add some more. 
While the overall premise remains the same (a gaggle of models competes in photo challenges, hoping to become America's next big thing), much has changed. Banks is out as host, and Rita Ora is in. Model judges Janice Dickson and Twiggy are nowhere to be seen, but Ashley Graham has stepped in. And perhaps less obviously, the industry has drastically changed since the shows premiere in 2003, with Instagram now being able to make or break a model's career.
So to get a lowdown on the reboot, Mic spoke with two of the new judges — stylist Law Roach and Paper magazine's creative director, Drew Elliott — about the show's past, its most iconic moments and what viewers should anticipate this season.
Mic: What were your first thoughts when you heard there was going to be an ANTM reboot?
Law Roach: I was so excited. I think America's Next Top Model is such a cultural phenomenon and is one of the biggest things in pop culture, period. What Tyra and that show were able to do and the boundaries they were able to break was outstanding.
It was the first time a trans woman [Isis King, from the show's 11th season] was put in a position where we looked at her as being beautiful and we had that conversation of trans women being beautiful and being models. We had Miss J walking in heels and it wasn't comedic. It was him actually teaching them a skill set to girls wanting that knowledge.
It showed us things in the fashion industry what we were missing, and are still missing. 
Drew Elliott: Approaching it, one of the worries I had is that ANTM had always portrayed a TV version of fashion, and that part to me made me a little bit nervous. When I got done with the meetings, and had an understanding of what VH1 and Tyra wanted, they wanted to show what the real fashion world was and find amazing people to help us on this journey.
How do you think this season is differentiating itself from the previous seasons?
DE: What's different about this season is that it's adjusting to the industry. Because the modeling industry even in the past couple of years, given Instagram and all that, our industry has changed so the new ANTM had to evolve.
LR: We're not just looking for a pretty face anymore. We're not just looking for a model. The top models today are brands and they are moguls and they're doing multiple campaigns and we're looking for a girl who has the aptitude and the drive to do that. It's not them coming in and saying, 'Hi, I'm beautiful, I'm a model.' It's more than that. I think now we're not just looking for a model, we're looking for a Tyra.
Why do you think ANTM has managed to become such a powerful brand after all these years?
LR: I think it's always been aspirational. I think Tyra went into so many people's homes in middle America and took us to these places we never saw. Then I think when you pull in a huge group of talent and personalities and the drama, we can't leave that out. When you take a girl from the Bronx and put her in the house with a girl from a small town in Arkansas, there's gonna be some type of drama, and we all learn from that.
Where we are in this climate right now and what we're going through after the election, these are things that prepare us for that.
DE: I think Tyra has done such a great job at democratizing what fashion is. It kind of gave people a look inside of an industry that is so exclusive. You look at the internet today, and people want to see the behind the scenes. Like on this show, it gives you a look into a young person's life and how they can become a part of this industry. It's not just a stereotypical waif thin and of the past, now it's such an equal opportunity in that space. It really portrays the American dream, where if you put your mind to it and do the right things, then you're gonna get there.
What's your favorite moment from the past seasons? The most iconic?
LR: The most iconic is when Tyra stood up and told [Tiffany Richardson, of Season 4] that, "I was rooting for you, we were all rooting for you." That moment, those words, we've all used that. There's been so many memes and so many people redoing that video.
In what ways do you think Top Model has been a leader in diversity in fashion?
LR: In a lot of ways. Fashion and really modeling is one of the last industries where it's OK — and not shocking — for a girl to go to a casting and for them to go, 'OK no more black girls,' or, 'No more Asian girls.' Fashion has not always been so inclusive, and I think that Tyra and Top Model creating a platform to showcase all beauty has been a huge turning point. 
After she appeared on the show, Toccara [Jones, the show's first plus-size model in Season 3] did a 12-page layout in Italian Vogue. Top Model and how inclusive it's been for everybody, it's been very positive and encouraging.
DE: I think ANTM has done a wonderful job showing that anyone can be fashionable. Tyra pushed that, and I think Ashley is pushing that this season. As we kind of went from the large group [of applicants] to the 14 [contestants], it was really important for us to cast a group that really represents who we think should be contenders to represent brands and organizations and charities. More than ever, models need to have more than a pretty look, they need to have a story of their own.
What do you think it takes for a model to really shine on ANTM?
LR: I was really looking for a girl who I felt like could go on and be really successful not only as a model but as a brand and as a mogul and build an actual empire and use the show as a platform for that. So I was looking for girls with that personality. I'm a firm believer that real stars shine. When someone has that "it," they walk in the room and we see it. And we do have those girls where it's like as soon as they walked in the room, they illuminated the room.