Green Monday deals 2016: Best discounts from these 6 top retailers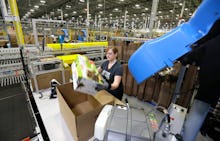 Black Friday and Cyber Monday may be over, but holiday shoppers searching for a bargain have one more day in store: Green Monday. 
Originally coined by Ebay in 2007, Green Monday is the retail holiday marking the Monday two weeks after Cyber Monday and at least 10 days away from Christmas, which is usually the busiest online shopping day in December. Green Monday will take place this year on Monday, Dec. 12, giving last-minute holiday shoppers another chance to find amazing deals.
While most Green Monday discounts aren't revealed in advance, here are some top stores to look out for on Monday.
Best Buy
Green Monday deals are in store for Best Buy shoppers. Though the tech store hasn't revealed the exact discounts to expect just yet, the Best Buy website promises discounts on 4K Ultra HD televisions, laptops, fitness trackers, smart watches and more. Time notes that last year's discounts included up to $125 off iPads, so those looking for some new tech items this holiday season should be sure to put Best Buy on their Green Monday list.
Amazon
Amazon's Green Monday savings will come as part of the online behemoth's 12 Days of Deals, which offers discount on a different category of items each day. Monday's discount will be specifically on electronics and Amazon devices, so tech fans and those looking to save on Kindles, Fire tablets and Alexa devices should do their Amazon shopping on Monday for sure.
Walmart
Green Monday is one of the biggest days of the year for the superstore, with Time noting that some of its 2015 deals were even better than their Black Friday prices. You'll have to wait until Monday for the exact deals to be revealed, though the retailer promises big savings "in every department" on their website, and last year's discounts, according to Forbes, included deals on Verizon Samsung Galaxy S4 smartphones, Playstation 4 console bundles, televisions, and the Apple iPad mini 2.
Macy's
Those looking for deals on clothes and accessories this Green Monday can head to Macy's, who have already unveiled a full slate of Green Monday deals. Special discounts this Green Monday include 65% off select luggage sets, up to 20% off select men's dress shirts, 50% off select boots and booties and 60% off select handbags.
Sears
Need to do some home improvements this holiday season? Check out Sears' Green Monday Friends and Family sale, which runs through Tuesday, Dec. 13. The sale includes 20% off on apparel, jewelry, shoes and accessories, along with 10% off on appliances, refrigerators, holiday decor, furniture, mattresses and more.
Target
Target is another place to watch out for this Green Monday. The superstore already has certain Green Monday deals listed on its website, which include $30 off on Keurig K200 coffee makers, $40 to $70 off select Beats in-ear and on-ear headphones and 40% off the FitBit Charge. Additionally, the store has a variety of weekly deals running through Dec. 17, including a $50 gift card with the purchase of an Apple iPad Mini 2 or two select video games and buy one get one 50% off on select kid's clothing. 
Other retailers
In addition to these six stores, there are plenty of other major retailers worth checking out on Green Monday. Toys R Us doesn't have any mention of Green Monday on its website yet (and notes on Twitter that its two-day sale ending Dec. 11 was the "last chance to save like Black Friday"). However, the toy store has been known for its Green Monday deals in the past, with Time noting the store had a second "Cyber Monday" sale on the retail holiday in 2015 and Passion for Savings reporting a host of 2014 sales as well — so if you're on the hunt for toys this holiday shopping season, the retailer might be worth a look on Green Monday.
Other stores that will be participating in the Green Monday festivities this year include Kmart (who is currently listing over 1,000 Green Monday deals), hhgregg and Overstock.com.