Geminid Meteor Shower 2016: When and where to watch the show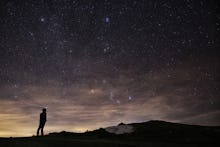 Every December, the Earth crosses paths with 3200 Phaethon, an asteroid that leaves a great deal of cosmic debris in its wake, resulting in the annual Geminid meteor shower, so named for the Gemini constellation from which the meteors appear to stream. Each year, stargazers are treated to a sky full of shooting stars during the shower's peak. 
The Geminid may be outshone by the moon
This year, the Geminid shower, which EarthSky.org calls "a particularly reliable and prolific shower," risks being outshone by a full moon. However, EarthSky notes, "these meteors are known for being bright," so readers hoping to see the display may be in luck. 
When to watch
According to EarthSky, the shower should peak Tuesday night and into Wednesday morning, but could be visible as early as Monday evening until Thursday morning. The best time to catch the Geminids is 2 a.m. local time, wherever one happens to be. 
Where to watch
Light pollution makes the Geminids, or any meteors, difficult to spot, so anyone who wants to see them should aim to get to a rural area, where bright lights won't obscure the night sky. However, because of this year's full moon, light pollution is guaranteed wherever one watches the shower, so it might be the case that 2016 is a less-than-spectacular year for the Geminids. Because of course it is.