Allen West Facebook post calls for Trump to "exterminate" Muslims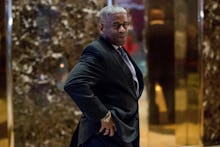 Allen West, the former Republican congressman turned right-wing political commentator, appeared to enrage even some members of his own fanbase on Saturday when his Facebook page shared a genocidal meme calling for President-elect Donald Trump's future secretary of defense to "exterminate" Muslims.
The image showed retired U.S. Marine Corps Gen. James "Mad Dog" Mattis, who is widely expected to serve in Trump's administration, accompanied by the text, "Fired by Obama to please the Muslims / Hired by Trump to exterminate them."
"Easy there," one top-ranked commenter shot back. "Hitler exterminated."
"No, hired by Trump to exterminate ISIS," another wrote. "Huge difference."
West is a former U.S. Army lieutenant who left the military after firing a gun next to an Iraqi policeman's head during an interrogation, an incident he was later able to parlay into his short-lived political success in Florida.
The post has since been deleted, with the manager of West's website, Michele Hickford, posting an apology to his Facebook page. According to Hickford, West's team did not create the image, which was posted "without Allen West's knowledge or consent."
Hickford did not explain how the post, which called for the murder of an estimated 1.6 billion people, made it onto West's Facebook page.
However, West's site regularly traffics in theories linking President Barack Obama's administration to the Muslim Brotherhood, and West once wrote the prophet Mohammed was a "murderous warlord, psychopath, and, by modern-day standards, a pedophile." He has a long history of bigoted or offensive remarks, including once suggesting religious coexistence in the U.S. is impossible and threatens democratic values, and views Islam as an existential threat to the continued existence of the country.
Earlier this month, West met with Vice President-elect Mike Pence and his pick for national security adviser, retired Lt. Gen. Michael Flynn, to discuss ways he could "continue to serve" the U.S., reported the Hill, though did not mention any specific role.
In late September, a group of St. Louis University students walked out on a scheduled appearance by West to protest his rhetoric on Islam.