Standing Rock protesters plan next fights after victory over Dakota Access pipeline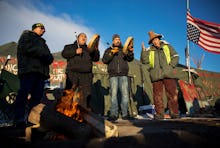 In the days after native protesters and activist allies convinced the U.S. Army Corps of Engineers to deny a permit for the Dakota Access pipeline to cross through Sioux land, the thousands of protesters assembled at Standing Rock Indian Reservation have endured harsh winter conditions.
Tribal authorities have urged non-Sioux protesters to disperse, citing the coming winter. Standing Rock Sioux chairman Dave Archambault III told Reuters that although they had "done the right thing," "nothing will happen this winter."
But many of the demonstrators gathered at Standing Rock protests are planning on taking the fight elsewhere, according to the Guardian, even though many believe the pipeline project will eventually be reinstated by Republican President-elect Donald Trump's administration.
One organizer, Honor the Earth national campaigns director Tara Houska, left the encampment to drive to Minnesota to testify against Enbridge's Line 3, a proposed pipeline which would cross northern Minnesota. Houska told the paper the project, which would cut through Anishinaabe hunting and fishing grounds, "threaten[s] the survival of our most important cultural identifier."
Other destinations for some of the protesters included the site of a proposed telescope in Hawaii, demonstrations in Wyoming against killings of the Yellowstone Buffalo and the Sabal Trail pipeline in Florida, according to the Guardian.
Meanwhile, numerous members of the protest group have chosen to stay behind, according to Motherboard.
One protester, Shakes The Spear of the Red Bottom Tribe of Montana, told Motherboard, "If you don't have it in your blood to stay and fight for what you believe in, you won't be able to take this kind of cold. I'm prepared for it, it's in my ancestral blood."
Another, the Michigan Ojibwe Tribe's Sarah Shomin, added "Right now the black snake's got an arrow in him, he's hurting. He's still just as dangerous though. Maybe even more dangerous. We want him dead. That means we're camping out, we're gonna have to get ready for this harsh winter."
In a statement released on Saturday, the Camp of the Sacred Stones, a coalition of native groups united behind the protesters, urged them not to give up the fight by pressuring investors to divest from the project.
"We ask you to join us in an unprecedented divestment campaign to kill the black snake financially," the group wrote. "We will also ask you to engage in the development of the Environmental Impact Statement to the extent that the public is invited to participate, and guide you through that process. But let us use this time to cut off funding for the project."